As an Amazon Associate, I earn from qualifying purchases.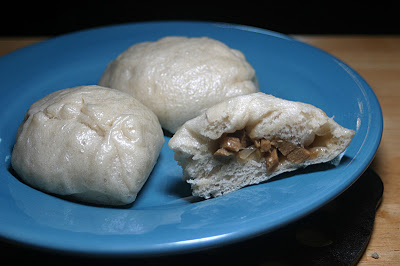 Day 301.
I found this recipe for Baozi (steamed pork buns) and really, really wanted to try them. Yet every time I went to make them, I remembered the 2-3 hour dough rising time and the effort of making the little buns and fitting them in the steam tray…not to mention breaking out the parchment paper. Let's just say I wasn't sure they'd be worth the effort. So, I put them off and put them off and here it is nearing the end of VeganMoFo. So, here we go, I'm sucking it up and I'm making these fancy schmancy steamed pork buns. I replaced the ground pork with finely chopped seitan to veganize the recipe.
Steamed Pork Buns
Adapted from Steamed Pork Buns; yields 16 buns
Ingredients
For the buns:
1 tablespoon active dry yeast
1 cup warm water, plus additional as needed
4 cups flour
2 tablespoons sugar
1 teaspoon baking powder
1 teaspoon kosher salt
For the filling:
8 ounces seitan, finely chopped
1/4 cup Chinese cabbage or bok choy, finely chopped
1/4 cup scallions, finely chopped
2 tablespoons soy sauce
1 tablespoon sesame oil
1 tablespoon sherry or rice wine
Directions
Mix yeast and water in a bowl and allow to sit for 10 minutes. Meanwhile, sift flour and sugar into a stand mixer that has a dough hook attachment. Add salt. Mix on low and slowly add in yeasty water. Continue to mix on low until the dough forms a ball. Continue on low for 5-10 minutes or until dough ball is shiny and smooth.
Place dough ball in an oiled bowl (rolling in oil to coat dough on all sides). Cover with plastic wrap and let rise for 2-3 hours until size is doubled. Meanwhile, mix together all of your filling ingredients in a medium bowl and set aside.
Punch down and halve dough. Roll each half into logs and cut each log into 8 equal pieces (16 total).
Lay out four sheets of parchment paper about the size of your steamer basket. Roll each dough piece into a ball, flatten into disks and place on parchment paper (4 dough balls per sheet).
When dough disks are ready, place a heaping tablespoon of filling into the center of a disk. Pull edges of dough around the filling and pinch the edges together to form a bun. Allow buns to rest for 20-30 minutes.
Prepare your steamer basket (I used the basket of my rice cooker with 1 cup of water in the rice pot). When buns are ready, place a batch (for me that was 1 sheet of parchment with four buns on it) in the steamer basket. Set cooker steam (or cook depending on your rice cooker). Steam for 15 minutes per batch. Turn steamer off and let rest for 5 minutes before removing. Repeat for remaining batches.
The Results
These were actually really tasty. But sooo not tasty enough for all that effort, in my opinion. I'd rather have my P.F. Chang's lettuce wraps, which are way faster and just as if not more delicious. But the kids…the kids inhaled them. They thought it was cool that the buns had "surprise" veggies and seitan inside. I might make these again for a party or a family get-together, but not for a regular family meal.
This post shared at Fat Camp Friday, Crafty Friday, Friday Favorites, Potluck Friday,·Frugal Fridays, Foodie Friday, Fresh Food Friday and I'm Lovin' It.
The Super Easy Vegetarian Slow Cooker Cookbook
Want vegetarian and vegan recipes you'll love? Check out my first cookbook! I'm so excited about it and I hope you'll love it. You can find more information about it right
HERE
.