As an Amazon Associate, I earn from qualifying purchases.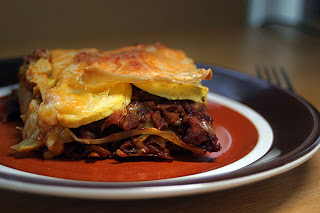 Day 330.
I still had several sweet potatoes and also just received two beautiful yellow summer squash in my CSA box this week. So, I decided to whip up a new creation using both, which is kind of funny since I don't like summer squash and my husband isn't fond of sweet potatoes.
But I think what I've crafted may just allow us both to enjoy the entire dish. My mom called the final flavor "exotic" but it's really pretty simple broken down and it all works surprisingly well together. The sweet potatoes are finely minced (almost into the consistency of a shredded meat) and mixed into the sauce, which also includes spaghetti sauce and Lentil and Rice Ground Beef Substitute.
Squash and Sweet Potato Lasagna
Ingredients
9 lasagna noodles
2 small yellow squash, cut in 1/4-inch slices
1 1/2 tablespoons House seasoning, divided
2 cups minced sweet potatoes
1 cup plus 2 tablespoons spaghetti sauce, divided
2 1/4 cups shredded cheese
Directions 
Preheat oven to 375.
Boil lasagna noodles according to package directions. Meanwhile, place sliced yellow squash in a colander and toss with a tablespoon of House seasoning. Allow to sit in colander while mixing sauce layer and boiling noodles (10-15 minutes).
In a large bowl, mix sweet potatoes, beef substitute, 1 cup spaghetti sauce and 1/2 tablespoon House seasoning.
Spray a 13 x 9 baking dish. Place three noodles across the bottom layer. Top with half of the sweet potato sauce blend, then half of squash slices and 1 cup cheese. Top with another layer of noodles and repeat. Top with final three noodles. Spread about 2 tablespoons spaghetti sauce over final noodle layer and top with remaining cheese.
Bake at 375 for 45 minutes until cheese is browned and bubbly. Let cool for 10 minutes before cutting to serve.
The Results
The flavor combination of this lasagna is incredible. I'm so glad I bit the bullet and included those squash. I loved them! And the sweet potato sauce blend was fantastic. I seriously considered just eating the sauce with a spoon. The kids went crazy for it and at least one of them was not a prior fan of yellow squash. Delicious and a definite repeat.
This post is shared with What's for Lunch Wednesday , Gallery of Favorites, Simply Delish and Muffin Tin Monday.
The Super Easy Vegetarian Slow Cooker Cookbook
Want vegetarian and vegan recipes you'll love? Check out my first cookbook! I'm so excited about it and I hope you'll love it. You can find more information about it right
HERE
.