As an Amazon Associate, I earn from qualifying purchases.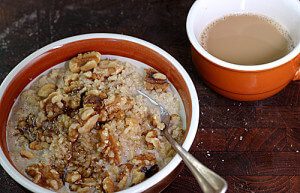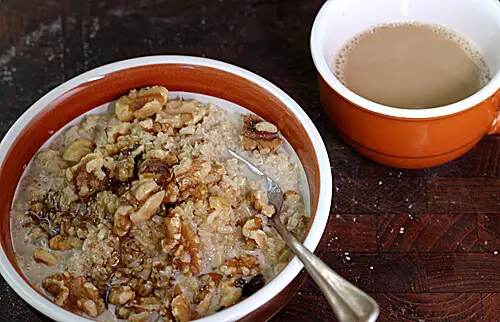 I absolutely LOVE rice pudding. I might be addicted. And the kids, they are obsessed with the "Sticky Rice" we get at our favorite local Thai restaurant, Penang. It's black rice soaked in delicious sweet coconut milk. It turns into this sloppy purple mess of deliciousness. Or maybe the mess is just what the girls make of it. 🙂 But it is fantastic.
So, when I saw an Indian-spiced Basmati rice breakfast cereal in a cookbook, Gourmet Vegetarian Slow Cooker, I knew I had to give it a try. The kids and I should love it, and maybe I've found a second rice pudding recipe Mr. Meaty will love! (He loves the sticky rice, but not my Aunt Annie's traditional rice pudding.) And, since the book is vegetarian and not vegan, I needed to veganize a bit. I knew I needed to use coconut milk to make it delicious like Penang's, so that was an easy choice.
I also swapped out honey for maple syrup and make the coconut shreds optional, since I don't keep those on-hand and it should already be coconutty enough with the coconut milk. I think it's going to be delicious! You can use complete brown rice, but I recommend Brown Rice Quinoa Blend to mitigate the arsenic risk and also to pack this dish full of protein. I also didn't make it in the slow cooker, opting for my rice cooker instead.
Spiced Basmati Rice Breakfast Cereal
Ingredients
1 1/2 cups organic brown basmati rice, rinsed well
3 1/2 cups water or coconut milk
1 1/2 sticks cinnamon
2 green cardamom pods
1/2 teaspoon freshly grated nutmeg
1/2 cup currants or raisins
2 cups coconut milk
3 tablespoons coconut, flaked and toasted
1/2 cup walnuts or almonds, coarsely chopped, toasted
Honey, for drizzling
Method
Place ingredients in rice cooker and cook on white rice setting.
The Results
Oh my goodness! Delicious. And the perfect pairing? A Pumpkin Spice (Coconut Milk) Latte. I love the rich flavor combination in the rice and the creaminess of the coconut milk. I left out the raisins in my bowl (adding them in separately to the kids') because I'm not a fan of hot raisins. Simple, fast and delicious.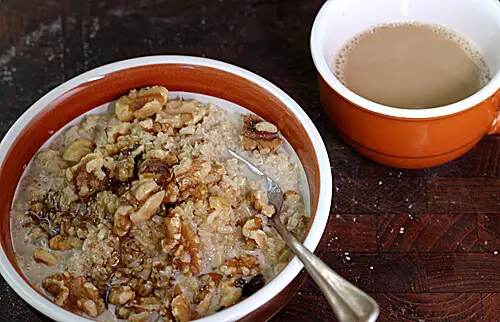 The Super Easy Vegetarian Slow Cooker Cookbook
Want vegetarian and vegan recipes you'll love? Check out my first cookbook! I'm so excited about it and I hope you'll love it. You can find more information about it right
HERE
.