As an Amazon Associate, I earn from qualifying purchases.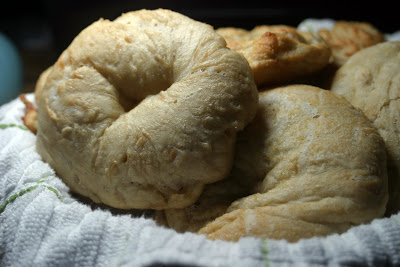 Day 219.
These delicious-looking bagels have been calling to me from Girlichef's blog since she published this post. I absolutely love sourdough and bagels. So it was sort of a duh that I would love sourdough bagels…if I knew how to make them.
I finally did. And it took a loooong time. So I'm not sure I'll make them again, regardless of their deliciousness, but I'll see.
Sourdough Bagels
Adapted from Sourdough Bagels.
Ingredients
2 3/4 cups flour + 1 tablespoon vital wheat gluten
3.25 ounces water
1 ounce coconut milk
2 tablespoons brown sugar
1 2/3 teaspoons salt
1.25 cups sourdough starter
1 tablespoons baking soda
Directions
Whisk the flour, brown sugar, coconut milk, and salt together in the bowl of a stand mixer. Add the starter and water to this mixture. Mix on low speed to combine. Continue to mix until the dough is very smooth and very strong…and seems almost rubbery.
Turn the dough out onto an unfloured counter and work a few turns by hand. Form the dough into a smooth ball; the surface should feel satiny and tight.Cover the dough loosely with plastic wrap or a towel and let it rest for 10 minutes.
Divide the dough into 8 pieces. Form each piece into a ball. Cover and let rest for another 10 minutes.
Line a sheet tray with parchment or a silpat, then dust it generously with cornmeal.
One by one, roll each ball into a long, thick cylinder that is ~8″-10″ long. Keep the width even throughout (don't taper the ends).
Wrap the length around your hand and overlap the ends by ~2″. Roll this section on the counter to meld the ends together a bit.
Place the bagels on the prepared sheet trays and cover with plastic wrap. If your bagel had a seam on it, make sure that seam is on bottom. Proof for about 4 hours at warm room temperature, until the bagels look and feel a bit puffy.When 4 hours is up, transfer the whole tray to the refrigerator for 4–8 hours.
Preheat oven to 425° F. Put a large pot of water over high heat and bring to a boil
Place a clean dishtowel on your work surface and place a wire rack on top of it. Remove bagels from refrigerator. Lightly dust the cornmeal from the bottoms and place them on the rack.
When the water boils, add the baking soda.
Gently lower a few bagels at a time into the boiling water. Cook for 20 seconds (by which time they should be floating). If they float immediately, be sure to turn them after 10 seconds so both sides get the full benefit of the boiling water.
Lift them out with a strainer or slotted spatula and place back on wire rack. Repeat with remaining dough. Let them sit on the rack for at least 30 seconds before placing them back on the semolina-dusted, lined sheet tray.
Once they are all back on the tray, slide them into the oven. Once the oven door is shut, lower heat to 400° F. Bake until golden, ~24-26 minutes…opening the oven door very briefly half way through to vent any built-up steam.
Put that wire rack back to use by cooling the bagels on it.
The Results
Wow. These are awesome. Almost worth doing the entire day's work all over again. I'm not sure I'll make these again, but they are really fantastic. Maybe once the kids are old enough to help we'll tackle this one again, together.
What are you having for Sunday Brunch, Breakfast or Lunch?
This post is shared at Penny Worthy Project, Cookbook Sundays, Savory Sunday·and·Potluck Sunday.
The Super Easy Vegetarian Slow Cooker Cookbook
Want vegetarian and vegan recipes you'll love? Check out my first cookbook! I'm so excited about it and I hope you'll love it. You can find more information about it right
HERE
.