As an Amazon Associate, I earn from qualifying purchases.
When I was a kid, my favorite store-bought cookies were Keebler Soft Batch. I'm not sure if they went away altogether or they've just disappeared from most shelves, but I can never find them*. So, when I found the recipe for Keebler Soft Batch Chocolate Chip Cookies in Insider's Recipes Master Edition, I was elated.
When making them ourselves we had to bake them a little longer than the recipe recommended. That's probably what led to them being a bit crispy on the edges, unlike the soft all around store-bought variety. But the centers were fantastic. I'm definitely going to tinker with this recipe a bit more and see if I can recapture that yumminess of childhood.
We chose dark chocolate chips and they were delicious. But feel free to tinker yourself and add your favorite chips; walnuts would be a great addition, too.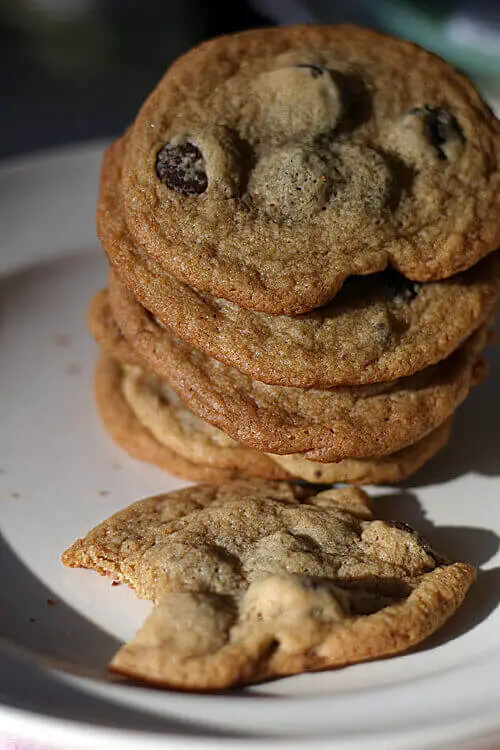 Soft Batch Chocolate Chip Cookies Copycat Recipe
Ingredients
1 pound butter, softened
2 eggs
2 Tablespoons molasses
1 Tablespoon vanilla
1/3 cup water
1 1/2 cups honey granules or sugar
1 1/2 cups sucanat or brown sugar
1 teaspoon baking powder
1 teaspoon kosher salt
5 cups flour
6 ounces chocolate chips (I used dark chocolate)
Method
Preheat oven to 375 degrees Fahrenheit.
Cream the butter, eggs, molasses, vanilla and water in a medium bowl. In a large bowl sift together the sugars, baking powder, baking soda, salt and flour.
Combine the moist mixture with the dry mixture and add the chocolate chips. Shape the dough into 1 inch balls and place them 1 inch apart on an ungreased cookie sheet. Bake for 8 minutes at 375 degrees Fahrenheit or until light brown around edges.
The Results
A definite repeat, perhaps with a bit of tinkering. The chocolate chips end up tasting more like delectable chocolate chunks. Yum.
*Of course, after writing this, I had to know if they were REALLY gone, or I just couldn't find them. They're not gone, exactly…they're just really rare. You can still find them occasionally in the big box stores, or you can order them on Amazon: Keebler Soft Batch Chocolate Chip Cookies. Sad state of affairs, right? Good thing I can make my own. 🙂
This post shared at Gallery of Favorites, Fresh Bites Friday, Friday Favorites, Frugal Fridays and I'm Lovin' It.
The Super Easy Vegetarian Slow Cooker Cookbook
Want vegetarian and vegan recipes you'll love? Check out my first cookbook! I'm so excited about it and I hope you'll love it. You can find more information about it right
HERE
.