As an Amazon Associate, I earn from qualifying purchases.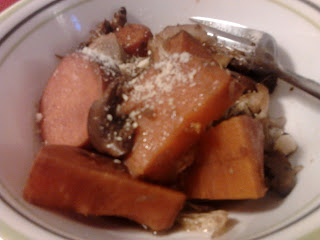 Day 125.
Mmm, hot sweet potato salad, what a treat! There are two types of German potato salad in the world. One is creamy, more like the cold salad, but warmed up. The other is vinegary and more akin to Hot Slaw with potatoes. I choose the vinegary one every time.
I had a couple of sweet potatoes left over from my CSA box as well as half a head of Napa cabbage. So, this is the leftover creation I came up with this week: a sweet potato version of Hot German Potato Salad with chopped cabbage mixed in.
Hot Sweet Potato Salad
Ingredients
2 sweet potatoes, sliced
1/2 head Napa cabbage
1/2 C balsamic vinegar
1/2 C "bacon"
2 Tbsp. brown sugar
1/4 C water
1/4 tsp. red pepper flakes
House seasoning, to taste
Directions
Place all ingredients, except cabbage, in 4-quart slow cooker. Cook on low for 5 hours. Add cabbage and cook one additional hour.
The Results
Mmm…yummy. Not what I was expecting exactly. The sweet potatoes make a huge difference in the potato salad. They don't blend as well with the vinegar as red or white potatoes. I topped mine with a bit of parmesan cheese and that seemed to (strangely, according to my husband) bring all the flavors together. I liked it a lot in spite of its vast departure from my usual Hot German Potato Salad.
Project Food Budget:
I spent $110 this week with a big grocery trip. Way over our budget of $75 for the week. But, we probably won't return for two weeks. Our budget is $300/month and I think we will still be under that if all goes well the rest of the month.
Goal: $75/$300
Actual: $110
Participating blogs:
This post is shared with Simple Lives Thursday, Tip Day Thursday, Frugal Food Thursday, Recipe Swap Thursday,Recipes I Can't Wait to Try, Things I Love Thursday, It's a Keeper, Full Plate Thursday, Grocery Cart Challenge, Cooking Thursday and Ultimate Recipe Swap.
The Super Easy Vegetarian Slow Cooker Cookbook
Want vegetarian and vegan recipes you'll love? Check out my first cookbook! I'm so excited about it and I hope you'll love it. You can find more information about it right
HERE
.