As an Amazon Associate, I earn from qualifying purchases.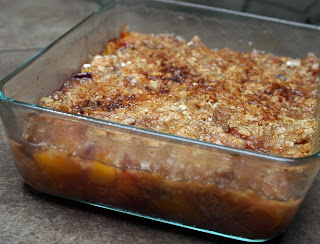 Day 197.
Rhubarb is the perfect solution to too cloyingly sweet fruits. In my opinion. I am not a fan of strawberry pie. But I love strawberry-rhubarb. And apple-rhubarb. But I've never tried rhubarb-peach. It seems like it will be perfectly delicious.
Rhubarb Peach Crisp
Adapted from Rhubarb and Peach Crisp.

Ingredients
6 cups diced fresh peaches, masticated with 1 cup sugar (bag the peaches and sugar and let it sit refrigerated either overnight or until the peaches release their juices)
1 cup rhubarb, sliced (about 1 stalk)
2/3 cup oats
2/3 cup packed brown sugar
1/2 cup flour
1 teaspoon ground cinnamon
1 teaspoon nutmeg
1/2 cup coconut oil
1/2 cup pecans, toasted and chopped
Directions
Preheat oven to 375.
When peaches are masticated, mix in rhubarb and place in a sprayed 1.5-2 quart casserole dish. Mix remaining ingredients and place on top of peach mixture. Bake at 375 for 35 to 40 minutes.
The Results
Holy yumtastic. I've always been fond of strawberry-rhubarb (even though I'm not a fan of plain strawberry treats). I think I like it even more with peaches. This was awesome. I topped mine with a bit of yogurt. Yum.
If you're a fan of rhubarb, check out these Apple Walnut Rhubarb Muffins, too!
This post is shared with What's for Lunch Wednesday, Simply Delish and Muffin Tin Monday.
The Super Easy Vegetarian Slow Cooker Cookbook
Want vegetarian and vegan recipes you'll love? Check out my first cookbook! I'm so excited about it and I hope you'll love it. You can find more information about it right
HERE
.