As an Amazon Associate, I earn from qualifying purchases.
Vegan Pumpkin Persimmon Muffins
Day 289.
I had beautiful little fuyu persimmons in a recent CSA box and decided I needed to try to make persimmon muffins. If you've never had persimmons, they're kind of like hearty apricots with the look of an orange tomato.
They're slightly sweet and juicy and can be used in sweets, or in savory dishes like this Vegan Bacon- Persimmon Pasta. I'm not the most experienced vegan muffin baker, by any means, but I'm giving it a shot for VeganMoFo.
The best part of vegan baking is the fact that the little ones can help "clean up" the batter from the spoons and bowl since there are no eggs in the batter.
We all enjoy that part of the baking process profusely.
Goose enjoyed trying to fit the ice cream scoop into her mouth (I use the scoop to measure put the batter in the muffin cups).
Goose enjoying the "clean-up."
I searched around a bit for persimmon bread or muffins and found Lemony Persimmon Muffins at Mango & Tomato, which she adapted from Low-Fat Persimmon Bread at Cooking Books.
I ended up morphing the two recipes a bit and doing veganized muffins by replacing the egg with pumpkin puree, using dairy-free yogurt and sour cream and using organic sugar.
I diced my persimmons instead of pureeing them, just to give the muffins a little more texture; you can peel them or leave the peels on (they're edible), depending on your texture preference.
I also added crushed pecans (I actually used only 1/4 cup to put on half the muffins to try it out, but 1/2 cup would cover all the muffins).
Pumpkin-Persimmon Muffins
Ingredients for 12-14 muffins
Dry ingredients

:

1 1/2 cups flour

2 teaspoons baking powder

1 teaspoon baking soda

1 teaspoon cinnamon

1/2 teaspoon salt
Wet ingredients

:

3/4 cup yogurt

1/4 cup sour cream

1/2 cup sugar

1/4 cup diced ripe fuyu persimmons (I used 2 small persimmons)

3/4 cup pumpkin puree

2 tablespoons oil

2 teaspoons vanilla
Optional topping:
1/2 cup pecans, crushed
Method
Preheat oven to 350.
In a large bowl, combine dry ingredients.
In a small bowl, combine wet ingredients.
Mix wet ingredients into dry ingredients, being careful not to over-mix.
Scoop into sprayed or lined muffin tins for 12-14 muffins.
Sprinkle crushed pecans on top, if desired.
Bake at 350 for 25-30 minutes and cool on a rack before serving.
The Results
These are absolutely delicious. I ended up with a bit more batter than 12 muffins and ended up using a couple of little ramekins for the extra batter.
The interesting part: the ramekin "muffins" turned out perfectly and the muffin tin muffins fell a bit.
I'm sure it has something to do with the light color of the white ramekins or even the thickness of the dish's walls versus that of the muffin tin.
I think that the muffin tin muffins were a tad underbaked, so should have stayed in for another 5 minutes.
I baked them for 25, so I'd suggest edging toward the 30 minute mark.
But, both the pumpkin persimmon muffins in the tin and the ramekin-muffins have the important part down: tasty.
What are you having for Sunday Brunch, Breakfast or Lunch?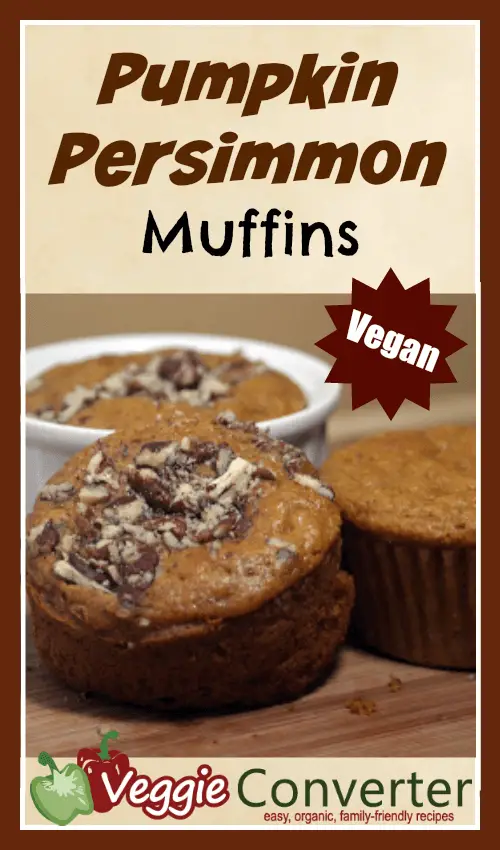 The Super Easy Vegetarian Slow Cooker Cookbook
Want vegetarian and vegan recipes you'll love? Check out my first cookbook! I'm so excited about it and I hope you'll love it. You can find more information about it right
HERE
.