As an Amazon Associate, I earn from qualifying purchases.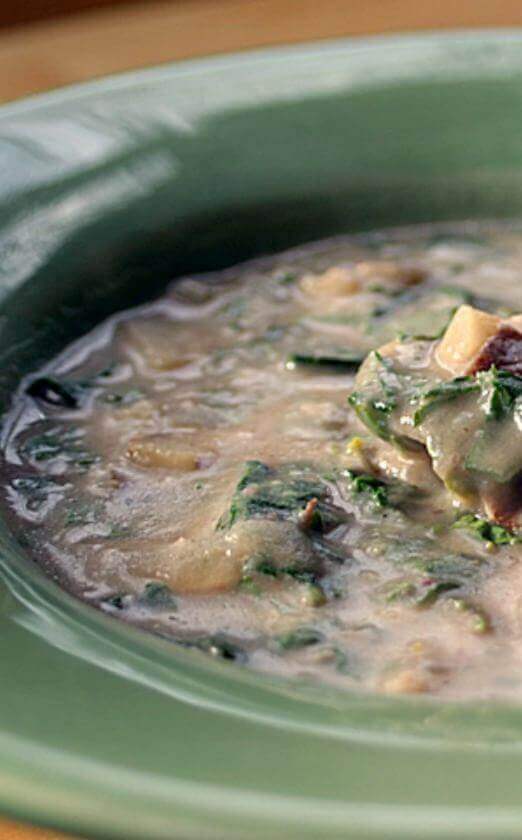 Welcome HuffPost readers! Learn more about Me. 
January is lovely. And it's National Soup Month (in case you can't tell, soup is one of my absolute favorite types of meals). Bug (our nearly 3-year-old) recently decided she is far too big for naps, so she's become my big kitchen helper. She was so excited to pull the kale leaves off all of the stems and place them in our veggie scrap bag for our Easy Slow Cooker Vegetable Broth that she wanted to put the veggies in, too! We had such a great time making this recipe, which is a favorite for my husband and me from the early days of our marriage. It's the first vegetarian recipe that I made for him from scratch that he really enjoyed. The soup's subtle spices, tender kale and creamy potato base are delightful for meat-eaters and vegetarians alike. It's creamy with or without milk and the kids like a little cheese on top of their bowls of soup. I'm sharing the delicious recipe Potato Kale Soup today.
Tender red potatoes and toothsome kale come together in a creamy, subtlety spiced soup base fortified with the umami of miso. This vegetarian Potato Kale Soup makes quite a tasty, healthy treat. Plus with a single substitution, it can be made vegan-friendly!
Potato Kale Soup
Ingredients
1 tablespoon Olive Oil
1 teaspoon mince Garlic, Cloves
1 ¼ cups dice Onion
4 cups Vegetable Broth/Stock
1 ounce Miso Paste
4 cups chunk Red Potato
½ teaspoons Thyme, Dried
¼ teaspoons Mustard Seed, Ground
⅛ teaspoons Salt
⅛ teaspoons Black Pepper
6 cups chop Kale
2 cups Milk
The Results
The soup is one of our all-time favorite homemade soup recipes. The kids can sometimes be a little weirded out by the kale in the soup, but they like the subtly-spiced creamy potato base immensely. My husband and I are both huge fans.
The Super Easy Vegetarian Slow Cooker Cookbook
Want vegetarian and vegan recipes you'll love? Check out my first cookbook! I'm so excited about it and I hope you'll love it. You can find more information about it right
HERE
.