As an Amazon Associate, I earn from qualifying purchases.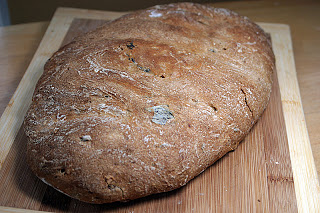 Day 351.
Remembering my renewed pledge to make more bread, I decided to use my Indian Potato Kale Soup to create a new bread recipe based on mashed potato bread. I created a similar recipe way back on Day 34: Mashed Chickpea Cauliflower Bread. This is a great all-in-one meal bread, full of nutrients from the tomatoes, kale and "chicken." I went with half whole wheat flour and half white for this recipe for a heartier bread that's soft.
Potato Kale Bread
Adapted from Mashed Chickpea Cauliflower Bread.
Ingredients for 2 large loaves
1 1/2 cups  Indian Potato Kale Soup
2 cups warm water
2 1/4 teaspoons dry active yeast
2 tablespoons margarine, melted
1 tablespoon molasses
1 teaspoon salt
5-6 cups flour (I used half whole wheat flour and half all-purpose)
Directions
Mash or immersion blend Indian Potato Kale Soup and combine in stand-mixer with warm water and yeast. Add margarine, molasses and salt. Stir. Gradually add flour 1/2 cup at a time until a soft dough ball is formed.
Turn dough out onto floured surface and knead until smooth (about 4 minutes). Pour a bit of olive oil in bowl, add dough ball and turn to coat. Cover and let rise in warm area until doubled, about 1 hour.
Lightly flour 2 large baking sheets. Punch down dough. Turn dough out onto floured work surface and knead until smooth, about 3 minutes. Divide dough in half. Roll each half between palms and work surface into 14-inch-long loaf. Transfer to prepared baking sheets. Cover with dry towel or sprayed plastic. Let rise until almost doubled in volume, about 30 minutes.
Position 1 rack in center and 1 rack in top third of oven. Add a baking dish or pan to center rack and fill with 1-2 cups water (this gives the bread a hard crust without requiring an egg-wash). Preheat oven to 500 F. Using sharp knife, cut 5 diagonal slashes in surface of each loaf. Bake loaves 10 minutes. Reduce oven temperature to 400 F. Bake about 15 minutes longer, until loaves are brown and sound hollow when tapped on bottom, switching and rotating baking sheets halfway through baking. Cool on racks.
The Results
Mmm…crusty on the outside and incredibly soft on the inside. This bread turned out great. It was a little sticky in the kneading process, but the final product is the perfect texture. I love the subtle Indian spice and the tiny bites of potato and kale throughout the bread.
This post is shared with What's for Lunch Wednesday , Gallery of Favorites, Simply Delish and Muffin Tin Monday.
The Super Easy Vegetarian Slow Cooker Cookbook
Want vegetarian and vegan recipes you'll love? Check out my first cookbook! I'm so excited about it and I hope you'll love it. You can find more information about it right
HERE
.