As an Amazon Associate, I earn from qualifying purchases.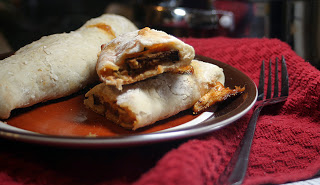 Day 161.
My husband's favorite local sandwich shop, Baldino's, serves Pepperoni Rolls. Apparently they're super awesome. But, alas, it's real pepperoni. So, I decided to make my own with various meat-free fillings.
Pizza Sticks
Ingredients
Pizza Dough (for 2 pizzas):
adapted from Pizza Dough
3 cups flour
2.25 teaspoons yeast
3 tablespoons olive oil
1 teaspoon salt
1 tablespoon sugar
Filling:
1 cup Pizza sauce
1 cup Mozzarella cheese*
Filling options:
Zucchini Pepperoni
Black Forest Bacon Strips, diced
Bacon Bits
1 cup additional Pizza/marinara sauce for dipping
Vegan converter:
*1 cup Mozzarella Daiya


Directions
Mix dough. Knead about 5-8 minutes until smooth. Cover loosely and allow to rest 30 minutes.
Preheat oven to 375.
Divide dough into 8 balls. Roll out into 4 x 8-inch rectangles. Fill with about 2 tablespoons each pizza sauce and cheese, placing both in the center. Add optional pizza topping fillings. Roll up into 8-inch sticks, from the long side. Wet edges with water and seal.
Place seam-side down on cookie sheet that is greased and dusted lightly with cornmeal. Bake for 20-25 minutes or until golden brown. Serve with extra pizza sauce for dipping.
The Results

Mmm…pizza sticks. I made half of ours with bacon strips and half with zucchini pepperoni. I liked them both. The bacon ended up tasting more like steak strips with the smoky flavor masked by the pasta sauce. But it was delicious. I personally think the extra pasta sauce for dipping is essential. You just can't cram enough sauce inside the sticks to be enough for me. 
This post shared at Fat Camp Friday, Crafty Friday, Friday Favorites, Potluck Friday,·Frugal Fridays, Foodie Fridayand I'm Lovin' It.
The Super Easy Vegetarian Slow Cooker Cookbook
Want vegetarian and vegan recipes you'll love? Check out my first cookbook! I'm so excited about it and I hope you'll love it. You can find more information about it right
HERE
.