As an Amazon Associate, I earn from qualifying purchases.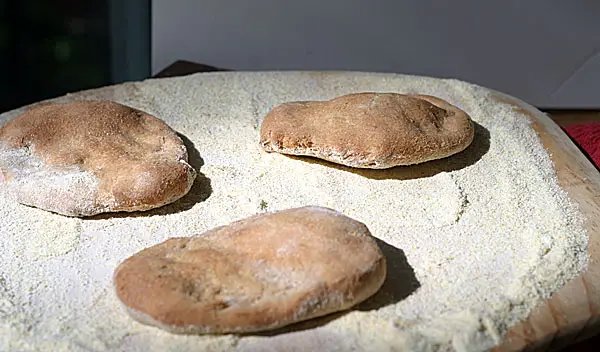 Check out these awesome lunch box pizzas!
It's pizza day! Hooray! I've made some fabulous homemade pizza dough over the years. But when I recently acquired a bread machine, I really wanted to try bread machine dough recipes. 
Plus, I wanted a good-tasting whole wheat crust. The other recipe I use just didn't taste quite right with all whole wheat white flour.
So, enter Pinterest. Which, lately, inspires at least a third of my recipes.
I found a simple dough recipe that uses melted butter. Well, I'm not vegan, but I know many readers are. Not to mention I absolutely love the shelf-stable nature of vegan options. So, I swapped in coconut oil.
The absolute best part of this pizza dough is the fact that I can dump all the ingredients in the bread machine and walk away. But, this could easily be adapted to hand mixing (just mix up the ingredients and let it rise for an hour, no kneading necessary).
I chose the big batch option and divided my dough into 5 parts. The fifth part I divided into quarters for lunch box pizzas for Bug to take to preschool!
Just flatten then out and bake them (10-12 minutes at 450) without toppings and you can pack them much like a Lunchables Pizza Kit. I send Bug with dipping sauce, pepperoni and Mozzarella string cheese. She thinks her deconstructed pizza is way cool.
Lunch Box Pizza Crusts
Ingredients
2 cups flour or gluten-free flour
1 tablespoon coconut oil
1 tablespoon sugar
1 teaspoon yeast
1 teaspoon salt
1/2 cup plus 2 tablespoons water (105-110 degrees)
Doubled (for 2 regular or 5 mini pizzas):
4 cups flour or gluten-free flour
2 tablespoons coconut oil
2 tablespoons sugar
2 teaspoon yeast
2 teaspoon salt
1 1/3 cups water (105-110 degrees)
Method
Add all ingredients into your bread machine.
Make sure that the water is warm enough to proof the yeast (105-110 degrees).
Turn your bread machine to the dough setting. After a couple minutes check on your dough. Make sure that the ingredients are thoroughly combined and that the dough is not too wet or too dry. 
The dough will rise during the dough cycle. 
After the bread machine is done (about 90 minutes on the dough cycle), dump the dough out onto a lightly floured surface and work it into the desired shape.
Dust your pizza stone or pan with cornmeal.
Bake at 400-425 degrees Fahrenheit for 18-25 minutes. 
[yumprint-recipe id='9′]
Recipe adapted from Mom on Time Out.
The Results
Yum! Bug loved her tiny pizza and we made up a cheese pizza for lunch while she was at school. Delicious! And so fast. A definite repeat.
Like pizza? Try these pizza recipes, too! 
This post is shared with Real Food Wednesday, Whole Food Wednesdays, What's Cooking Wednesday, Works for me Wednesday, These Chicks Cooked and Bake with Bizzy, Hearth and Soul Hop.
The Super Easy Vegetarian Slow Cooker Cookbook
Want vegetarian and vegan recipes you'll love? Check out my first cookbook! I'm so excited about it and I hope you'll love it. You can find more information about it right
HERE
.