As an Amazon Associate, I earn from qualifying purchases.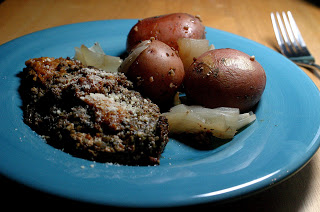 Day 241.
I'm making Slow Cooker Vegan Pesto Chicken today. I topped mine with the optional potatoes, 1/2 onion, 3 cloves garlic, Italian seasoning and a splash of olive oil and balsamic vinegar.
Slow Cooker Vegan Pesto Chicken
Ingredients
16 ounces faux Chicken Cutlets or 4 cups cooked chickpeas
1 cup Pesto
1 cup shredded Mozzarella Cheese, Dairy Free, like Daiya
1 tablespoon Olive Oil
Method
Slosh olive oil in the bottom of your slow cooker.
Place your "chicken" in the bottom, top with pesto and mozzarella.
Layer potatoes (regular or sweet) on top.
Cook for 6 hours.
The Results
I don't think my husband is going to be fooled by this one, like he can be with "meaty" spaghetti sauce, but I do think it's really good. And I love the complete layered dinner. The potatoes turned out really well.
Meatless/Vegan Monday Link-up
So creative, simple, and gluten-free, France's carrot "pasta" is a great idea.
Now for the link-up rules: post your link to a meatless (vegan or vegetarian, or even an attempted meatless) recipe that you've posted on your blog.
This post is shared at·Mouthwatering Mondays, My Meatless Mondays, Cravings, Menu Inspiration Monday, Just Another Meatless Monday,·Homemaker Monday.·Meatless Mondays,·Mingle Monday, MMMmonday, Mangia Monday,Make a Food-e Friend, Recipe Sharing Monday, Made By You Mondays and Monday Mania.
The Super Easy Vegetarian Slow Cooker Cookbook
Want vegetarian and vegan recipes you'll love? Check out my first cookbook! I'm so excited about it and I hope you'll love it. You can find more information about it right
HERE
.