As an Amazon Associate, I earn from qualifying purchases.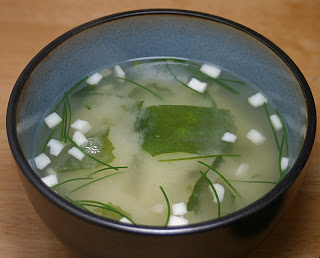 Day 308.
Today's meal is going to be a simple one. I'm the last hold-out of some sort of sore throat and fever thing going through our house. The kids were up to a smorgasbord of leftovers, but I'm still on the warm liquid diet. Last time I was sick, unfortunately not so very long ago, my friend Angela reminded me that miso soup is an excellent vegan treat during a cold. I found a simple recipe on my miso paste container and decided I'd give it a shot. Or rather, ask my husband nicely, albeit probably a bit whinily, to give it a shot.
Miso Soup
Ingredients for 1 serving
1 cup water or Easy Slow Cooker Vegetable Broth
1/2 teaspoon chopped scallion
1/2 teaspoon ready-to-use Wakame seaweed
2 tablespoons tofu, finely diced
2 teaspoons miso paste, dissolved in a small amount of water
green onions or chives (optional)
Directions
Simmer scallion, Wakame and tofu in water or broth until seaweed is reconstituted and soup is warmed through. Take soup off of heat and add dissolved miso. Top with green onions or chives, if desired.
The Results
This was definitely the perfect soup for me today. I'll have to try it again when my tastebuds have recovered a bit, but I think it was a nice, mild, simple miso soup.
This post shared at Fat Camp Friday, Crafty Friday, Friday Favorites, Potluck Friday,·Frugal Fridays, Foodie Friday, Fresh Food Friday and I'm Lovin' It.
The Super Easy Vegetarian Slow Cooker Cookbook
Want vegetarian and vegan recipes you'll love? Check out my first cookbook! I'm so excited about it and I hope you'll love it. You can find more information about it right
HERE
.