As an Amazon Associate, I earn from qualifying purchases.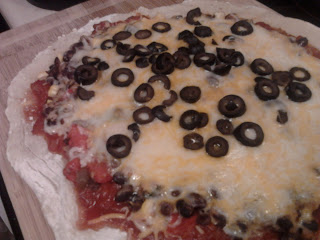 Day 137.
Mmm…vegetarian Mexican pizza…yummy! Sometimes I have huge pizza cravings. This was one of those nights. And, since I already had pasta planned for Italian/Pizza night, I couldn't just cheat and make Friday's meal early. So, Taco Tuesday vegetarian Mexican Pizza it is. Yum!
Vegetarian Mexican Pizza
Ingredients
Pizza Crust (I used a homemade sourdough crust)
1 C Tomato Salsa
1 C ground beef substitute
2 C Mexican cheese
2 C Black Bean Salsa, from Black Bean Salsa Quesadillas
1/4 sliced black olives
Method
Partially bake crust, if necessary. Spread a bit of olive oil over the top to seal the crust. Top with a layer of tomato salsa, "beef," black bean salsa, cheese and olives. Bake at 400 for 15 minutes.
The Results
Seriously delicious and so easy. You could also do a layer of refried black beans and salsa for the "pizza sauce" then top with your favorite Mexican toppings and cheese.
This post is shared at·Tuesdays at the Table,·Slightly Indulgent Tuesday,·Tasty Tuesday, Delectable Tuesday,·Tempt My Tummy Tuesday,·Delicious Dishes,·Real Food Wednesday, Recipe of the Week, Hearth and Soul and Tasty Tuesday.
The Super Easy Vegetarian Slow Cooker Cookbook
Want vegetarian and vegan recipes you'll love? Check out my first cookbook! I'm so excited about it and I hope you'll love it. You can find more information about it right
HERE
.