As an Amazon Associate, I earn from qualifying purchases.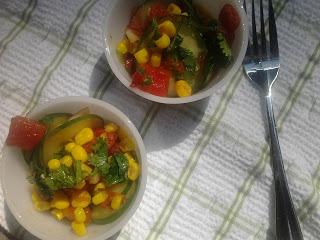 Day 151.
Another CSA box special today. They sent a huge cucumber this week and I just had to do a cuc salad to let the cucumber be the star of the dish. I found a great-sounding spicy cucumber salad, but wanted to give mine a Mexican flare for Taco Tuesday. I think it the recipe turned out fantastically.
Mexican Cucumber Salad
Adapted from Spicy Cucumber Salad.
Ingredients
1 cucumber, thinly sliced (about 3 cups)
2 teaspoons kosher salt or House seasoing
1/2 cup rice vinegar
1/2 cup water
3 tablespoons molasses
1/2 jalapeno, minced (about 1 tablespoon)
2 tablespoons minced red onion
3/4 cup tomatoes, diced
1/2 cup corn
1/4 cup fresh cilantro, chopped
Directions
Drain and pat excess water off cucumbers. Throw slices in colander with a bit of kosher salt or House seasoning. Meanwhile, mix liquids in small saucepan. Heat to boiling, reduce heat and simmer for about 10 minutes to reduce liquid to about 1/3 cup. Add onion and jalapeno. Cool liquid.
Meanwhile, add tomatoes, corn and cilantro to cucumbers. Place veggies in a large bowl. When liquid has cooled, pour into bowl and mix.
Results
OMG fabulous. I debated about the corn and the jalapenos, but in the end I think this is the best version of this dish that was floating around in my head. The Bug loves it and her daddy would eat it all himself if we let him. I have a feeling these cucs will be even more delicious after a few days in the fridge. If they last that long.
Like cucumber? Try this Chinese sweet and sour cucumbers recipe!
This post is shared at·Tuesdays at the Table,·Slightly Indulgent Tuesday,·Tasty Tuesday, Delectable Tuesday,·Tempt My Tummy Tuesday,·Delicious Dishes,·Real Food Wednesday, Recipe of the Week, Hearth and Souland Tasty Tuesday.
The Super Easy Vegetarian Slow Cooker Cookbook
Want vegetarian and vegan recipes you'll love? Check out my first cookbook! I'm so excited about it and I hope you'll love it. You can find more information about it right
HERE
.