As an Amazon Associate, I earn from qualifying purchases.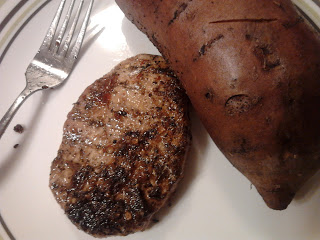 Day 87.
I'm making vegetarian porchetta! (Vegan, really, but who's counting?) Welcome to the weekly Meatless (Vegan) Monday Link-up and my vegan recipe for the week. I've never heard of Porchetta (I'm not really a connoisseur of meat, so this isn't a big surprise). But this seemed pretty yummy.
When LightLife sent me some samples of their Grilled Chicken cutlets, I thought I would porchetta-ize them. After all, the cutlets emulate chicken, but most veggie "meats" take on the taste of the spices and sauces you put them in. So here it goes, porchetta-style chicken cutlets.
Vegetarian Porchetta
Adapted from Porchetta.
Ingredients
1 package LightLife Grilled Chicken Cutlets (or 2 cups cooked chickpeas)
1/4 cup olive oil
8 cloves garlic, chopped
2 tablespoons rosemary, chopped
2 tablespoons sage, chopped
zest of 1 lemon
1 1/2 tablespoons salt
2 tablespoons cracked black pepper
1/4 cup brown sugar
1 tablespoons fennel seeds
1 tablespoons dill seeds
1 teaspoon bacon salt (or liquid smoke)
1 teaspoon red pepper flakes
Layered dinner option: 3 large sweet potatoes
Method
Marinate the "pork" in all the other ingredients. Place in crockpot and cover with foil. I added four sweet potatoes to roast on top, you can do this or leave them out (or do regular potatoes). Cook on low 4-6 hours or until potatoes are baked
The Results
Wow. Spicy. I like it. And double duty for the slow cooker with the baked sweet potatoes is always a bonus. I love it. Another great layered sweet potato dinner, if you like this one is this yummy pesto "chicken" dinner, check it out!
I was not compensated for this post, nor was I asked to write this post in exchange for the product; however, LightLife did provide me with samples of their products to test. 
This post is shared at·Mouthwatering Mondays,Cravings, Menu Inspiration Monday, Just Another Meatless Monday,·Happy Homemaker Monday,·Homemaker Monday.·Meatless Mondays,·Mingle Monday, MMMmonday, Mangia Monday,Make a Food-e Friend,My Meatless Mondays, Monday Mania, Ultimate Blog Party and·Hearth and Soul.

Today's Meatless/Vegan Monday meal is Gnocchi Bathed in Brown Butter from Heather at Girlichef.
OMG, did she say bathed? Oh yes, she did. Drool. I may have dreamed about this meal. In my dream I ate the whole thing and then the bowl magically refilled itself.
The Super Easy Vegetarian Slow Cooker Cookbook
Want vegetarian and vegan recipes you'll love? Check out my first cookbook! I'm so excited about it and I hope you'll love it. You can find more information about it right
HERE
.