As an Amazon Associate, I earn from qualifying purchases.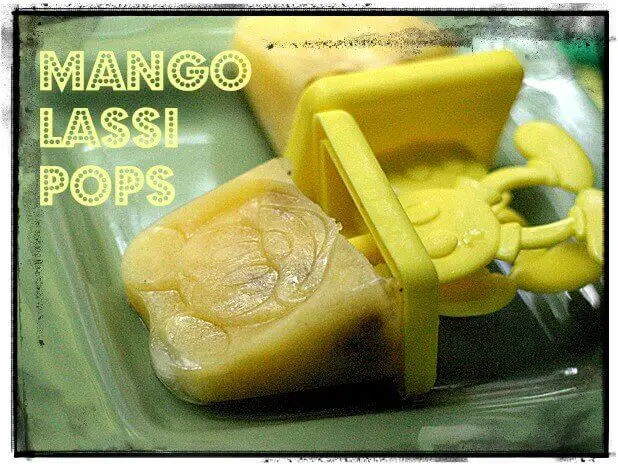 The kids are insane about mangos. I like them, sort of. I have a bit of a strained relationship with them I suppose. I don't know, I just think they're a little weird. But mangos, plus yogurt in a freezy pop that tastes like a mango lassi? Um, yum! Plus, mangos are so incredibly good for you. They're packed with 75% of your daily vitamin C 25% of vitamin A and even a bit of iron and calcium to boot in just 1 cup of mango. Plus, they make a really pretty popsicle. 🙂 Enjoy!
This recipe is part of this week's VEGGISICLES freezer plan. So get these ingredients together if you're following along for this weekend's weekly cooking day!
Mango Lassi Pops
Serves 4
Ingredients
1 mango, peeled, chopped and pureed
2 cups yogurt or coconut milk
1/4 cup honey
1/4 teaspoon cardamom or cinnamon
1/2 cup pistachios or walnuts (optional)
Method
Mix all ingredients except nuts and pour into popsicle molds. When partially set, sprinkle nuts on top and continue to freeze.
The Results
I got one taste of the two I froze and the kids greedily gobbled down the rest. That taste was delicious! I'll definitely be buying more popsicle molds so I can actually make 12 at a time!
This post is shared with  Keep It Real Thursdays, Simple Lives Thursday, Frugal Food Thursday, It's a Keeper, Full Plate Thursday, Tastetastic Thursday and Ultimate Recipe Swap.
The Super Easy Vegetarian Slow Cooker Cookbook
Want vegetarian and vegan recipes you'll love? Check out my first cookbook! I'm so excited about it and I hope you'll love it. You can find more information about it right
HERE
.