As an Amazon Associate, I earn from qualifying purchases.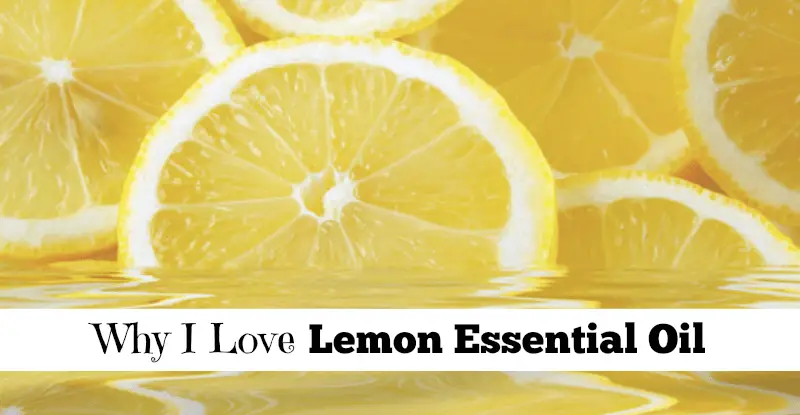 If you are looking for an invigorating and refreshing scent, then Lemon essential oil is what you need. Lemon's tangy citrus taste has always been a popular flavor in the kitchen (making the Lemon Vitality Essential Oil a great choice); it is also a popular choice for cleaning products and also for aroma. So if you love lemons, then you will love the intense and concentrated form of it in Lemon EO. You see, Lemon EO is derived from the rind of lemons. It takes 3,000 lemons to produce 1 kilo of this amazing and refreshing oil!
Of course, it is important to use a high-quality Lemon essential oil. My preference is Young Living Essential Oils (learn more about them here).
Here are the many reasons why I LOVE Lemon Essential Oil:
1. For Cleaning Your Home
Simply combine 2-3 drops of lemon with water in a spray bottle to clean surfaces.
Consider adding 10-15 drops of lemon essential to a gallon of carpet cleaning solution to help pull out stains, brighten carpets and rugs, and to leave a fresh smell in the room.
Make a natural furniture polish by adding several drops of lemon to a half cup of olive oil.
Eliminate odors in your home (like your garbage can!) by adding a few drops of lemon EO to a cotton ball and place it where you need it.
2. Removing Stains
Lemon EO can be used to remove stains from your laundry.
You can soak dishcloths in a bowl of water with 1-2 drops of lemon EO overnight to naturally clean.
Use 1-2 drops of lemon EO to remove gum, oil, grease spots and crayon from most surfaces.
You know when your kids get a sticker at the grocery store or doctor? And then they always leave them on their shirt and it gets washed? Well, lemon oil gets that icky, post-washer sticker residue off, too!
3. Cleaning Fruit and Vegetables
Add 2-3 drops of lemon EO to a bowl of cool water and add your produce. Not only will this help clean your produce, it might also help increase the shelf life of them.
4. It makes tasty beverages
Add a few drops of Lemon (Vitality) essential oil to a cup of water in the morning. It bursts with a lemony tang and is full of antioxidants.
You can also add a few drops of Lemon (Vitality) to your smoothies for a refreshing and uplifting drink.
Enhance your lemonade with a drop drops of Lemon (Vitality) essential oil.
5. Adds flavor to your meals
Add several drops of Lemon (Vitality) essential oil to a chicken marinade for a delicious dinner.
Toss your veggies with Lemon (Vitality) and olive oil prior to roasting for a delicious side dish.
Make sauces for your fish dishes brighter by including Lemon (Vitality).
6. Freshen your breath
Not only does Peppermint Essential Oil work for freshening your breath, you can also add a drop of Lemon EO to the tip of your tongue for a refreshing change.
7. Uplift your spirits
Lemon oil's uplifting effects awaken the senses, clear the mind of distractions and help a person tune in to the task at hand.
Place a drop in your hands to inhale, rub a drop into long or short hair, or diffuse through the room during times to uplift the spirits.
8. Promotes energy and focus
Lemon EO promotes focus and clarity.  It helps a person to overcome confusion or doubt, feelings of being overwhelmed and lack of enthusiasm. It also helps to clear self-doubt, limiting beliefs, stagnant energy and rigidness in the mind, heart, or body.
Inhale lemon oil or place a few drops on a cotton ball to replenish your mind, body, and spirit.
Cautions When Using Lemon Essential Oil
Lemon is photosensitive. This means that lemon oil can cause the skin to burn if exposed to sunlight after applying the oil. Avoid applying to skin that will be exposed to sunlight or UV light within 24 hours.
 
Why I Love…
Learn more about why I love:
Got a Question?
Contact me at [email protected]
Get started with Young Living with the Premium Starter Kit. Get it for 50% off retail prices. Learn more here.
***These statements have not been evaluated by the FDA. This product is not intended to treat diagnose or cure.
The Super Easy Vegetarian Slow Cooker Cookbook
Want vegetarian and vegan recipes you'll love? Check out my first cookbook! I'm so excited about it and I hope you'll love it. You can find more information about it right
HERE
.