As an Amazon Associate, I earn from qualifying purchases.

What is Ningxia Red?
One of the reasons I love Ningxia Red is that it is a delicious fruity beverage. This is Young Living's super fruit supplement made from wolfberries from the Ningxia province of China and it is supercharged with Young Living citrus essential oils. Just a 1 ounce shot of Ningxia Red supplies the body with vital antioxidants that provide a natural energy supply. Ningxia Red comes in large 750 mL glass bottles (that are very pretty!) and also in mini packs called Ningxia Red Singles, which are in 2 ounce size, making them convenient and ready for travel. Chill, shake, drink! The kids and I also love them frozen. That turns them into slushy packs!
If you want to sample it first, you are in luck: you receive two sample packets of Ningxia Red in a Young Living Essential Oil starter kit. I hope you have tried them! If you haven't, then hopefully this will inspire you to go and grab it and crack it open!
Why I Love Ningxia Red:
This drink was developed after Gary Young (founder of Young Living) traveled to the Ningxia province of China in his search for cultures with vitality and longevity. He found it in the Ningxia wolfberry!
Balanced ingredients make Ningxia Red a whole-body nutrient infusion for health and wellness support.
Energize/energy support
Supports normal cellular function.
Contains powerful ingredients that are involved in many natural antioxidant processes.
Supports good health and overall wellness.
Supports whole-body health support.
Supports normal eye health.
Formulated from exotic fruits. Powerful formula includes wolfberry, which is touted for its health benefits.
Helps prevent against oxidative stress.
Healthy daily supplement.
Ningxia Red is also infused with 4 powerful essential oils: lemon, orange, tangerine, yuzu – which all have the powerful component d-limonene.
How can I get some Ningxia Red?
Here are some options – I recommend the Ningxia Red Essential Rewards Kit – it is the best value! You can get it here. This kit also comes with Ningxia Nitro, something I talk about in this post. Like I already mentioned, you can also get samples of Ningxia Red in the Young Living Essential Oils starter kit.
How do I use Ningxia Red?
Personally, my family and I LOVE drinking Ningxia Red just the way it is. We drink 2-4 ounces of Ningxia Red per day to naturally boost the immune system and give a natural energy boost! We challenge you to try it for 30 days and see how you feel!
However, it's always fun to come up with clever and tasty recipes. Here are a few great ones out there that use Ningxia Red:
Have you tried Ningxia Red yet? Give it a try and let me know what you think!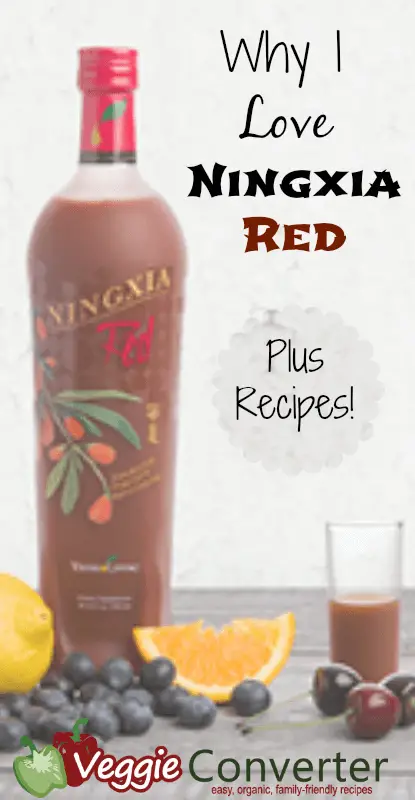 Why I Love…
Learn more about why I love:
Got a Question?
Contact me at [email protected]
Get started with Young Living with the Premium Starter Kit. Get it for 50% off retail prices. Learn more here.
***These statements have not been evaluated by the FDA. This product is not intended to treat diagnose or cure.
The Super Easy Vegetarian Slow Cooker Cookbook
Want vegetarian and vegan recipes you'll love? Check out my first cookbook! I'm so excited about it and I hope you'll love it. You can find more information about it right
HERE
.