As an Amazon Associate, I earn from qualifying purchases.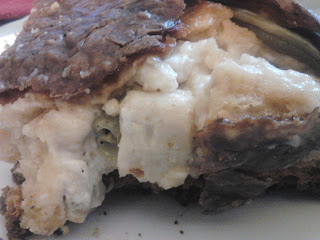 Day 104.
Mmm…leftover Chicken Divan…so good I almost don't want to mess with it. But I have this leftover pizza crust and some mozzarella cheese. So let's see where this goes.
Chicken Divan Pizza
Ingredients
2 C Chicken Divan
2 C Mozzarella Cheese
olive oil
Pizza Crust 
Directions
Sprinkle olive oil on crust. Spread Chicken Divan onto crust. Top with cheese. Bake at 400 for 20 minutes.
The Results
So, I tried to use the Cook & Hold feature on my oven to do this…and something went awry, so it was a bit overcooked. But somehow, still delicious.
Project Food Budget:
We spent $100 at Kroger for groceries, which, while over budget, was great after a week of no grocery shopping. Our budget is $300/month or $75/week.
Goal: $75/$300
Actual: $100/$138
Participating Blogs:
This post is shared with Simple Lives Thursday, Tip Day Thursday, Frugal Food Thursday, Recipe Swap Thursday,Recipes I Can't Wait to Try, Things I Love Thursday, It's a Keeper, Full Plate Thursday, Grocery Cart Challenge, Cooking Thursday and Ultimate Recipe Swap.
The Super Easy Vegetarian Slow Cooker Cookbook
Want vegetarian and vegan recipes you'll love? Check out my first cookbook! I'm so excited about it and I hope you'll love it. You can find more information about it right
HERE
.