As an Amazon Associate, I earn from qualifying purchases.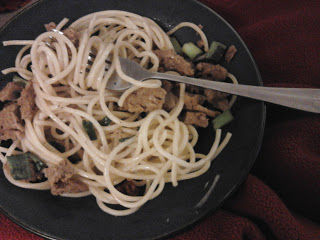 Day 111.
Those dumplings were super tasty. But, I'll be honest, I just didn't want to make 60 of them. Especially when I realized I forgot the store-bought wraps and had to make my own (or go to the store with two kids by myself, no thanks).
So, I had a bit of leftover filling, and today is leftovers day. A sign, right? I thought so. So I'm making Vegan Dumpling Pasta! I know it's going to be just as delicious and like, way less work. Winner, right?
Dumpling Pasta
Ingredients
1 C Dumpling filling
1/2 pound pasta, cooked
Olive oil, to taste
Directions
Throw all ingredients in pan. Mix and heat through. Eat. Drool.
The Results
So good. I miss a little bit of the crispiness of the dumplings (the little pan-fried bottoms). But the chewy pasta and spicy meat…yum. I love it. It's definitely a quick and easy use of the leftover filling for lazy, ahem, I mean, busy, moms.
Project Food Budget:
I think (but I can't seem to find my receipt) that I spent about $100 at the wholesale club this week. That makes $238 so far for the month out of my $300 budget. So, even though I'm over for the week, I'm still doing great for the month.
Goal: $75/$300
Actual: $100/$238
This post is shared with Simple Lives Thursday, Tip Day Thursday, Frugal Food Thursday, Recipe Swap Thursday,Recipes I Can't Wait to Try, Things I Love Thursday, It's a Keeper, Full Plate Thursday, Grocery Cart Challenge, Cooking Thursday and Ultimate Recipe Swap.
The Super Easy Vegetarian Slow Cooker Cookbook
Want vegetarian and vegan recipes you'll love? Check out my first cookbook! I'm so excited about it and I hope you'll love it. You can find more information about it right
HERE
.