As an Amazon Associate, I earn from qualifying purchases.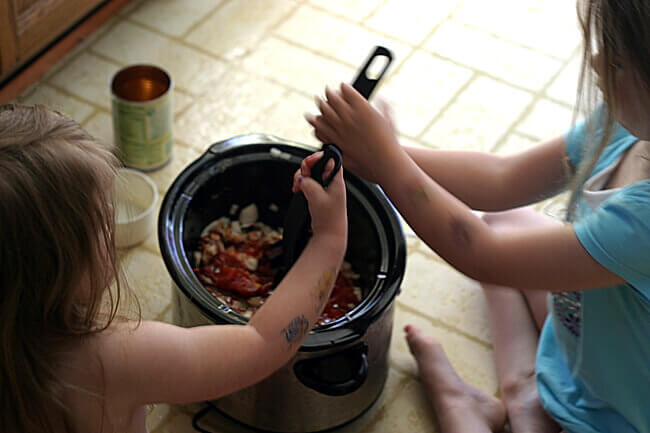 My girls love helping in the kitchen. Unfortunately, not every recipe is conducive to their particular brand of "help." Sometimes the help is more of a hindrance, sure, but it's always an adventure. But my thrift store find, the Fix-It and Forget-It Kids' Cookbook, makes the adventures simple and slightly less messy.  I adapted the Super Spaghetti Sauce recipe (the original had meat, which we could've replaced with Lentil and Rice Ground Beef Substitute, but we prefer our "meat" optional in our sauce so we left it out) to a simple CrockPot marinara sauce.
While we have a favorite Slow Cooker marinara sauce, our kids aren't as fond of it as we are. It's a little too adventurous for them. This version is less spicy and they gobble it up even without pasta underneath it. Yes, that's weird. But hey, I've never claimed they're normal. 🙂
And of course, the most awesome aspect of this recipe is that I open up the cans for them, chop the onion and then I just hand them the ingredients. They put them all in the CrockPot and stir it up. Wander back into the kitchen hours later and wallah! Spaghetti Sauce!
Kid-Friendly Kid-Cooked CrockPot Spaghetti Sauce
Ingredients
1 cup diced onion
2 14 ounce cans diced tomatoes, undrained
6 ounce can tomato paste
8 ounce can tomato sauce
2 teaspoons minced garlic
1 1/2 Tablespoons Italian seasoning
1 teaspoon kosher salt
1 Tablespoon brown sugar
1 bay leaf
Instructions
Mom or Dad: Dice the onion.
Kids: Pour all of the ingredients into the CrockPot.
Drop the bay leaf on top.
Cook on LOW for 8 hours.
PS: Those are temporary tattoos on the girls' arms. They're not that wild and crazy…yet.
The Super Easy Vegetarian Slow Cooker Cookbook
Want vegetarian and vegan recipes you'll love? Check out my first cookbook! I'm so excited about it and I hope you'll love it. You can find more information about it right
HERE
.