As an Amazon Associate, I earn from qualifying purchases.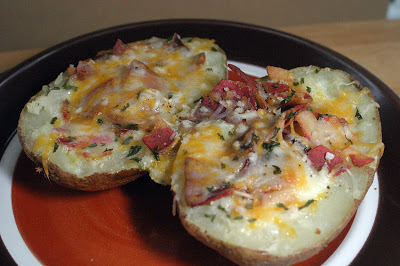 Day 268.
This Idaho sunrise recipe is just so cool: Baked potatoes filled with eggs, bacon and cheese. It's like an All-Star breakfast in a bowl…an edible potato bowl. Very neat. I'm simply going to swap out the bacon for veggie bacon to make these baked potato treats.
I bake my potatoes with a bit of olive oil and House seasoning rubbed into the skins. I think that gives a delicious little zing to the skin. I also did potato halves instead of whole potatoes with their lids cut off. But that was mainly because I can't properly read directions before I start cooking. 🙂 It worked out well though, so I'm sticking to it.
Idaho Sunrise
Adapted from Idaho Sunrise (Baked Eggs and Bacon in Potato Bowls).

Ingredients
1 large baked potato (russett or sweet)
1 tablespoon butter
2 eggs
2 strips veggie bacon, fried and crumbled
2 tablespoons shredded cheese
1 tablespoons fresh parsley, chopped
salt and freshly ground black pepper
Method
Preheat oven to 350 degrees Fahrenheit.
If unbaked, poke holes in your potatoes with a fork and run with olive oil and House seasoning. Bake at 350 for about 1 hour. Leave your oven on 350 and prepare bowls.
Lay the baked potato on its side, cut in half.  With a spoon, hollow out the middle of the potato to make a "bowl." Reserve potato centers for another use.
Place 1/2 tablespoon of butter in the middle of each bowl.  Gently break an egg into each bowl, careful not to break the yolk.  Top with bacon, cheese, parsley, and then season with salt and pepper.
Bake at 350 for 20-25 minutes, or until the egg whites are set.  Serve immediately.
The Results
Wow, tasty. Mine didn't turn out quite as "sunrisey" as the original since the bacon and cheese sort of covered up the sunrise, but it still tasted great. I left my husband's yolk intact, but for my own, I scrambled it a bit so I could stand to eat it. I have a weird issue with eating unbroken yolks. Grosses me out.
Anyway, I thought they turned out like a breakfast potato, egg and bacon skillet. My husband said they tasted like hashbrowns mixed with eggs and bacon. I made 4 potato halves (double recipe).
The adults had 2 halves each. For the kids (one of whom has a strong aversion to eggs), I used the centers of the potatoes that we reserved from the bowl cut, mixed those with cheese and bacon (and scrambled egg for 1 kid) and served them in a toddler bowl. They thought that was pretty yummy. So this is a definitely family winner.
What are you having for Sunday Brunch, Breakfast or Lunch?
Try these yummy peanut butter potatoes, too!
This post is shared at Penny Worthy Project, Cookbook Sundays,Creative Bloggers and· Savory Sunday.
The Super Easy Vegetarian Slow Cooker Cookbook
Want vegetarian and vegan recipes you'll love? Check out my first cookbook! I'm so excited about it and I hope you'll love it. You can find more information about it right
HERE
.