As an Amazon Associate, I earn from qualifying purchases.
OK, I know these sound weird. Who stuffs their potatoes with peanut butter. But, if you're a long-time reader, you may remember Bug, our 3-year-old, HATES potatoes with a bizarre inexplicable passion. Now, there could definitely be worse things to hate. I don't begrudge her the lack of this one starch. But, you know, they show up in our CSA box and sometimes I'd like her to eat them along with the rest of us.
She LOVES peanut butter. A lot. So, when I happened across a recipe in one of my old cookbooks, the vegetable volume of Favorite Recipes of America, for Peanut Butter Stuffed Potatoes, I knew I had to give it a shot. This was months ago, back when I first acquired the books. They're kind of like twice-baked potatoes but stuffed with peanut butter and butter instead of cheese and such.
I haven't been able to push past the weirdness of it until now. But, now that we've tried them, I wish I could've convinced myself sooner! They sound weird, but since there's only a couple of tablespoons of peanut butter spread throughout 3 large potatoes, it's actually pretty subtle and delicious! Try it, especially for little ones, I think you'll love it, too.
I used my KitchenAid Hand Blender to mix these babies up and it was so quick and easy. I love how handy that tool is! (You still have a few days to win your own!) With the organic peanut butter shortage, you may want to try your own homemade nut butter blend. Check out my article over at Organic Authority to learn how: Organic Peanut Butter Recalled, Try These DIY Substitutes.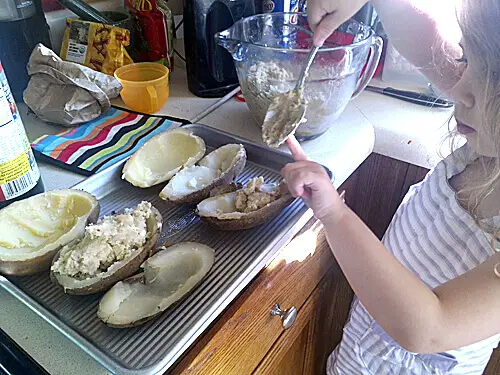 Peanut Butter Stuffed Potatoes
Ingredients
3 large baking potatoes, baked
2 Tablespoons peanut butter
3 Tablespoons coconut oil (or butter)
salt and pepper, to taste
Method
Cut potatoes in half. Scoop out potato centers. Mix with peanut butter and coconut oil and fill potatoes.
Bake for 30-45 minutes until tender. Salt and pepper to taste.
The Results
Wow. These were surprisingly tasty. Now I don't really know why the weirdness bothered me so much. After all, peanut butter sauce is great on noodles, so why not peanut butter in potatoes. I think the kids pretty much just ate the stuffing out of the middle, so I may just do peanut butter mashed potatoes for them in the future. But I loved it as-is.
This post is shared with Real Food Wednesday, Whole Food Wednesdays, What's Cooking Wednesday, Works for me Wednesday, These Chicks Cooked and Bake with Bizzy, Hearth and Soul Hop.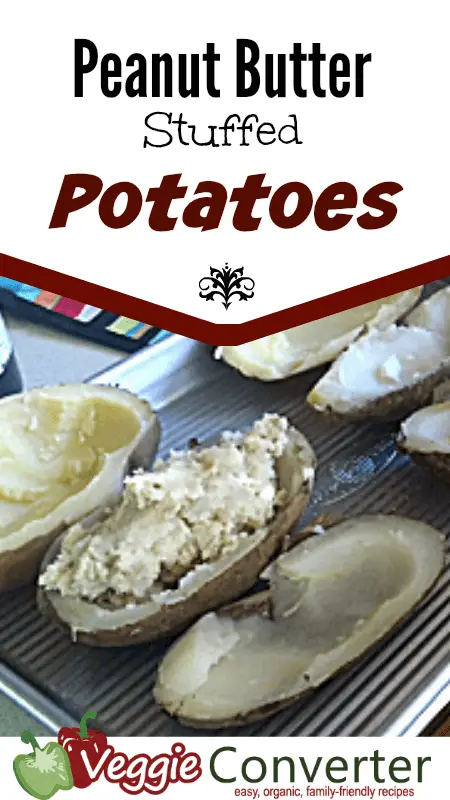 The Super Easy Vegetarian Slow Cooker Cookbook
Want vegetarian and vegan recipes you'll love? Check out my first cookbook! I'm so excited about it and I hope you'll love it. You can find more information about it right
HERE
.