As an Amazon Associate, I earn from qualifying purchases.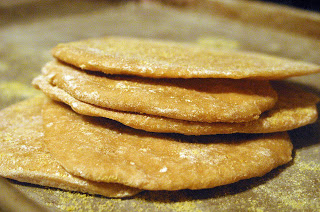 Pita Bread
Adapted from 
Sesame Seed Pizzas
makes 12 pitas
1 1/2 cups flour, plus more as needed
1 1/2 cups whole wheat pastry flour
3 tablespoons olive oil
1 teaspoons yeast
2 teaspoons salt
1 cup warm water + more as needed
1/2 teaspoon sugar
cornmeal
Directions
Combine flours, oil, yeast and salt in a food processor. Turn machine on and add 1 cup warm water.  Process for 30 seconds, adding more water until mixture forms a ball and is slightly sticky to the touch.  If it's dry, add 1-2 tablespoons water and process for another 10 seconds.
Put the dough in a bowl and cover with plastic wrap. Let rise until doubled in size, 1-2 hours.
When dough is ready, lightly flour your hands and the work surface. Form dough into a ball and divide into 12 equal pieces.  Roll each piece into a small ball.  Put each ball on a lightly floured surface, sprinkle with a little flour, and cover with plastic wrap or a towel.  Let rest until they puff slightly, about 20 minutes.
Roll each ball less than 1/4-inch thick, using flour to prevent sticking as necessary. Dough should sit for 20 minutes before baking. When all the disks are rolled out heat oven to 350.  Spray a baking sheet and sprinkle on cornmeal. Set sheet on middle rack of oven.
Slide as many disks as will fit on each sheet pan (I got 6 onto each of 2 large pans) into the oven using a pizza peel or large spatula.  Bake until lightly browned and puffed, then flip to the other side. They should puff up a bit when ready. Bake 5-7 minutes.
 
The Super Easy Vegetarian Slow Cooker Cookbook
Want vegetarian and vegan recipes you'll love? Check out my first cookbook! I'm so excited about it and I hope you'll love it. You can find more information about it right
HERE
.