As an Amazon Associate, I earn from qualifying purchases.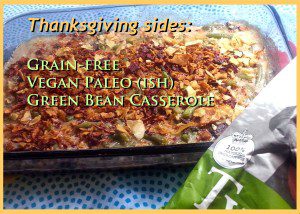 Another Paleo (ish) recipe today. This one uses green beans, which are sometimes considered a Paleo no-no, sometimes not. But, if you eat green beans, this green bean casserole is an amazing grain-free vegan Thanksgiving side dish. We're going to need all the help we can get this Thanksgiving to make a few things we can all eat. So getting this long-time favorite converted into a grain-free dairy-free dish is a big step.
Green Bean Casserole
Ingredients
1 pound fresh green beans, trimmed, cut into 3-inch pieces and blanched
1.5 cups Homemade Gluten-free Vegan Cream of Mushroom Soup
3/4 cup dairy-free milk
1/4 teaspoon House seasoning or black pepper
1 1/3 cups French fried onions, divided
Optional add-in: 1 cup chickpeas, cooked
Directions
Preheat oven to 350.
Spray a 2-quart casserole dish.
Mix together all ingredients (including chickpeas, if using), except 2/3 cup of French fried onions.
Bake at 350 for 30 minutes. Add remaining French fried onions and bake for 5 more minutes.
The Super Easy Vegetarian Slow Cooker Cookbook
Want vegetarian and vegan recipes you'll love? Check out my first cookbook! I'm so excited about it and I hope you'll love it. You can find more information about it right
HERE
.