As an Amazon Associate, I earn from qualifying purchases.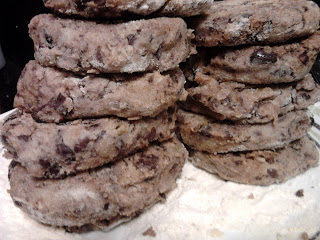 Day 112.
It's gluten-free Friday. Hooray! These gluten free black bean burgers are an adaptation of a Betty Crocker-favorite and are inspired by The Flying Biscuit's Love Cakes. For those outside of the Atlanta area, Love Cakes are these delicious little bean patties topped with tomatilla salsa and feta cheese.
They're incredibly fantastic and you can even order them as a side. Yes, a Side of Love. So, I have made the love cakes at home before (I have the actual recipe), but I just think these burgers are a little simpler and pretty darn tasty to boot! Plus, bonus, they are easy to convert to gluten free.
Black Bean Burgers
Adapted from California Black Bean Burgers.
Ingredients
2 C black beans, cooked
1 can (7 ounces) chopped green chilies, undrained
1 Tbsp. homemade taco seasoning or chile powder
1 C masa (mixed in)
1/4 C masa (coating)
1 egg, beaten
2 Tbsp. olive oil
gluten-free buns, toasted
1  Tbsp. feta cheese or bleu cheese salad dressing
3 Tbsp. salsa (I use tomatilla salsa) 

Directions 
Squish beans in a ziploc bag (or throw them in the food processor, if preferred) until slightly mashed, but still chunky. Throw in 1 C masa, egg, chiles and taco seasoning. Squish more. Lay out a large plate and cover it with remaining masa.
Form beans into patties (I do about 12 slider-size patties). Smoosh down into the masa; flip, coating both sides. Put olive oil in pan or on griddle. Cook patties for about 5 minutes per side or until crispy.
The Results
Mmmm…so incredible. I love them gluten-free and gluten-full. I think I like the masa version better than the original bread crumb version. It just goes better with the Tex-Mexy bean blend. Vegans could also leave out the egg or use egg replacer. I think that probably wouldn't even be necessary as squished beans adhere pretty well to other squished beans.
If you like these gluten free black bean burgers, try Love Cakes, too!
This post shared at Fat Camp Friday, Crafty Friday, Friday Favorites, Potluck Friday,·Frugal Fridays, Foodie Fridayand I'm Lovin' It.
The Super Easy Vegetarian Slow Cooker Cookbook
Want vegetarian and vegan recipes you'll love? Check out my first cookbook! I'm so excited about it and I hope you'll love it. You can find more information about it right
HERE
.