As an Amazon Associate, I earn from qualifying purchases.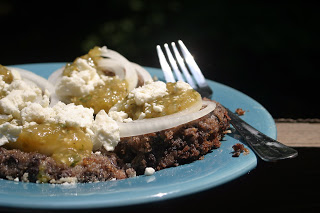 Day 226.
Mmm…black bean love cakes, breakfast of champions. Back when my husband was still in the wooing stage (when we were dating), he was super sweet and looked for new vegetarian restaurants in our area to take me to. The Flying Biscuit was one of the restaurants he found and we both fell in love with it. We almost always order the same thing.
The Eggceptional Eggs, black bean "love cake" topped with eggs and with a side of potatoes. If I'm not into a big meal, I get the "Side of Love," which is simply the Love Cakes that are found at the bottom of that pile of eggs. They are incredibly fantastic. And, if you feel like cheating, you can buy the green salsa instead of making your own. But this recipe the green salsa recipe is super, so I suggest making your own at least once. It's really pretty simple.
Love Cakes
Adapted from Love Cakes.

Ingredients
4 cups cooked black beans (or 2 15-ounce cans)
2 tablespoons canola oil
2 tablespoons yellow onion, minced
2 garlic cloves, minced
1 teaspoon ground cumin
1 teaspoon kosher salt
1/4 cup masa de harina (this is in most grocery stores now in the Mexican food section)
Garnishes:
1/2 cup Green Salsa
2 tablespoons crumbled feta cheese
1/4 cup slivered red onions
Directions
Rinse and drain black beans in a sieve.
In a small sauté pan heat 1 tablespoon of the canola oil over medium heat. Cook onion, garlic, cumin, and salt until onions are translucent. Place drained beans and onion mixture in a bowl and mash with a potato masher until well combined. Gradually add masa, allowing mixture to absorb it before adding more. Test dough by rolling it in the palm of your hand. Keep adding masa until dough doesn't stick to your hand and holds the shape of a ball.
Divide dough into 16 small balls and flatten into cakes. Place a large skillet over medium heat and add the remaining 1 tablespoon of canola oil. Saute cakes until lightly browned on each side, about 3 to 5 minutes per side. Top with Green Salsa, feta cheese, and slivered red onions.
The Results
So delicious and so surprisingly simple to make. This is one of our absolute favorites. I highly recommend you make some (especially if you don't live near a Flying Biscuit). They are incredible.
What are you having for Sunday Brunch, Breakfast or Lunch?
This post is shared at Penny Worthy Project, Cookbook Sundays, Savory Sunday·and·Potluck Sunday.
The Super Easy Vegetarian Slow Cooker Cookbook
Want vegetarian and vegan recipes you'll love? Check out my first cookbook! I'm so excited about it and I hope you'll love it. You can find more information about it right
HERE
.