As an Amazon Associate, I earn from qualifying purchases.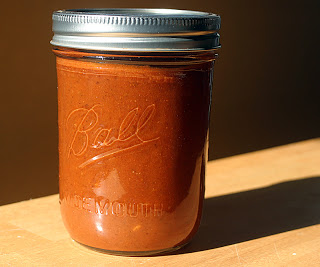 Day 358.
I love enchiladas, but I'm not always a fan of the enchilada sauce. I'm not sure how else to describe it, but some sauces taste too earthy for me. I've always intended to try my hand at my own homemade sauce, but it's one of those things I've been overthinking. You know how it goes: "That has to be pretty complicated, right? Yeah, must be, I'll just try yet another brand of store-bought sauce to see if I like it." Never fails there's always a little something about the sauce I don't like.
So, we were at our local wholesale club recently rummaging through the clearance section (one of my favorite things to do there and probably my husband's least favorite things to watch me do) and found a box of 12  6-ounce cans of tomato paste for $4. The box was a little banged up, but all the cans were fine. Bargain, right? Then, this morning I was trying to decide what to make for Christmas dinner tomorrow (we usually have Meaty Vegetarian Lasagna, but we decided to try something different this year, mainly so I could post about a new recipe, lol).
I had some leftover pumpkin from our delicious Pumpkin Brownies. For some reason I got it into my head to combine pumpkin and black beans, but it was a toss-up between creating Pumpkin Black Bean Chili and Pumpkin Black Bean Enchiladas. My husband and I were both leaning toward the enchiladas, but I really didn't want to go to the scary pre-Christmas grocery store. That's when the husband reminded me about that bargain of tomato paste and encouraged me to take the plunge on making our own sauce. I'm so glad he did.
Easy Homemade Enchilada Sauce
Ingredients for 1 pint (about 2 cups)
2 tablespoons vegetable oil
2 tablespoons flour (or cornstarch for gluten-free)
3 tablespoons Homemade Taco Seasoning Mix
2 cups water
6 ounces tomato paste
Directions
Heat oil, flour and taco seasoning in a large pot over medium heat for 1-2 minutes (add a splash of your water if it gets too difficult to stir. Add water and tomato paste, dissolving tomato paste in water. Reduce heat and simmer uncovered for about 20 minutes, stirring regularly.
To can: pour completed sauce into prepared pint jar and process in a boiling water canner for about 20 minutes.
The Results
Wow. Seriously easy and seriously incredible. Since we love our taco seasoning flavor I guess it comes as no surprise that we love the flavor of this enchilada sauce. I think this could work with your own favorite taco seasoning, too. I'll end up using this can tomorrow for our enchiladas so I didn't end up processing the can, but I think I'll make a quadruple batch next time around and can 4 pints for future enchiladas and tamales. Yum. No more mediocre store-bought sauce for us!
This post is shared with Fresh Bites Friday, Gallery of Favorites, Simply Delish and Muffin Tin Monday.
The Super Easy Vegetarian Slow Cooker Cookbook
Want vegetarian and vegan recipes you'll love? Check out my first cookbook! I'm so excited about it and I hope you'll love it. You can find more information about it right
HERE
.