As an Amazon Associate, I earn from qualifying purchases.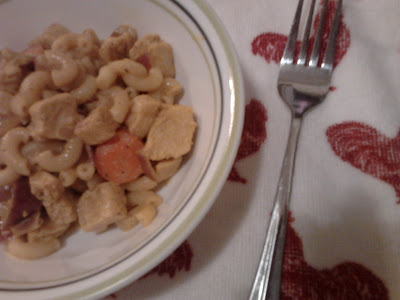 I made vegetarian curried noodles and chicken today. This is a fantastic recipe and I hope you all get the chance to try it.
Vegetarian Curried Noodles and Chicken 
Adapted from Curried Noodles recipe.
Ingredients
1 pound macaroni noodles, cooked
1 red onion, diced
1 bell pepper, diced
1 carrot, sliced or grated
2 C Quorn "chicken" tender cubes
1-2 Tbsp curry powder
2 tsp. garlic powder
1 tsp. dry mustard
1 Tbsp. olive oil
salt & pepper to taste
3 Tbsp. light butter spread
3 Tbsp. cream cheese
Directions
Cook onions, peppers and carrots in oil until softened in a deep skillet.
Add seasonings and cook for 1-2 minutes until fragrant. Add "chicken" and stir.
Add butter and noodiles and toss to coat – if it appears dry, add a bit of water.
Heat through and add cream cheese and blend throughly.
The Results
We're HUGE curry fans here, so it's no surprise that we loved this dish. Here's how I knew for sure we had a winner. My husband had a bowl and said, "you know, this is not too great. But, being a good husband, I'll eat the rest so you don't have to suffer through it." My reply, "Excellent," as I dove into my own bowl. (That's usually his code for, I like this and I'm going to "trick" you into not eating it.) GO NOW, go make it. I promise you won't regret it.
The cream cheese is such a simple brilliant way to make the creamy coating for the noodles. Indian recipes would probably use yogurt or coconut milk, but I think the cream cheese really makes the curry stick to the noodles well. So, so good. I am so impressed with this dish. I love it.
This post shared at Fat Camp Friday, Crafty Friday, Friday Favorites, Potluck Friday,·Frugal Fridays, Foodie Friday and I'm Lovin' It.
Try these other noodle recipes if you like this one!
Vegetarian Buffalo Chicken Macaroni and Cheese
The Super Easy Vegetarian Slow Cooker Cookbook
Want vegetarian and vegan recipes you'll love? Check out my first cookbook! I'm so excited about it and I hope you'll love it. You can find more information about it right
HERE
.