PAID ENDORSEMENT DISCLOSURE:I may receive monetary compensation or other types of remuneration for my endorsement, recommendation, testimonial and/or link to any products or services from this blog.
Day 250.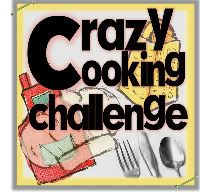 I am participating in the Crazy Cooking Challenge today, which has 70+ bloggers cooking up various Macaroni and Cheese recipes for the day. I chose a Macaroni and Cheese recipe from Taste and Tell Blog. It was the perfect macaroni for this challenge. Exciting and different, but not too much stuff in the mac and cheese. I'm a big fan of "normal" mac and cheese, too, but I wanted to challenge myself with something at least a little different for this cooking challenge. I debated about a butternut squash macaroni and cheese, similar to my Sweet Potato Mac and Cheese, but I REALLY wanted to use real cheese this time. I've been on a bit of a buffalo chicken kick lately, so this recipe was a perfect fit.
Buffalo Chicken Macaroni and Cheese
Adapted from Buffalo Chicken Macaroni and Cheese.
Ingredients
8 tablespoons butter, unsalted
1 pound elbow macaroni
1 small onion, finely chopped
3 cups "chicken," finely chopped (seitan, chickpeas or other chicken susbstitute)
1 tablespoon House seasoning
2 cloves garlic, minced
3/4 cup hot sauce
2 tablespoons flour
2 teaspoons dry mustard
2 1/2 cups half-and-half
1 pound sharp cheddar cheese, shredded
8 ounces pepper jack cheese, shredded
2/3 cup sour cream
1 cup breadcrumbs
1/2 cup crumbled blue cheese
2 tablespoons fresh parsley, chopped
Directions
Preheat the oven to 350 and butter a 9 x13 baking dish. Bring a large pot of salted water to a boil; add the pasta and cook until al dente, about 7 minutes. Drain.
Meanwhile, melt 3 tablespoons butter in a large skillet over medium heat. Add the onion and cook until soft, about 5 minutes. Stir in the "chicken" and garlic and cook 2 minutes, then add 1/2 cup hot sauce and simmer until slightly thickened, about 1 more minute.
Melt 2 tablespoons butter in a large saucepan over medium heat. Stir in the flour and mustard with a wooden spoon until smooth. Whisk in the half-and-half, then add the remaining 1/4 cup hot sauce and stir until thick, about 2 minutes. Whisk in the cheddar and pepper jack cheeses, then whisk in the sour cream until smooth.
Spread half of the macaroni in the prepared baking dish, then top with the chicken mixture and the remaining macaroni. Pour the cheese sauce evenly on top.
Put the remaining 2 tablespoons butter in a medium microwave-safe bowl and microwave until melted. Stir in the breadcrumbs, blue cheese and parsley. Sprinkle over the macaroni and bake until bubbly, 30 to 40 minutes. Let rest 10 minutes before serving.
The Results
Oh my goodness. Seriously? This is fantastic. I think this is my new "normal" macaroni and cheese recipe, too. I'll just leave out the "chicken," hot sauce, onions and bleu cheese. I snuck a few "taste tests" of the cheese sauce be pouring it on the macaroni and it was simply fantastic. I ended up making two smaller dishes of macaroni (about the equivalent of two 8 x 8s) and reduced the amount of hot saucy chicken in the kids' portion. They adored the mac and cheese with about half the amount of saucy chicken. My husband and I gobbled up our saucier version. We loved it. This is definitely going in our favorites list.

This post is shared with Real Food Wednesday, Recipes I Can't Wait to Try, What's Cooking Wednesday, What's on Your Plate?, What's on the Menu Wednesday, Let's Do Brunch, Works for me Wednesday, These Chicks Cooked, Recipe Link Party, Foodie Wednesday, Cast Party Wednesday and No Whine Wednesday.
Due to spam, I've decided to close comments on posts older than 14 days.
PAID ENDORSEMENT DISCLOSURE: I may receive monetary compensation or other types of remuneration for my endorsement, recommendation, testimonial and/or link to any products or services from this blog. We are a participant in the Amazon Services LLC Associates Program, an affiliate advertising program designed to provide a means for us to earn fees by linking to Amazon.com and affiliated sites.