PAID ENDORSEMENT DISCLOSURE:I may receive monetary compensation or other types of remuneration for my endorsement, recommendation, testimonial and/or link to any products or services from this blog.
Day 280: Dessert Bonus.
It's time for the Crazy Cooking Challenge: Chocolate Chip Cookies! I was lucky enough to be assigned Betcha Can't Eat Just One for another recipe challenge, Secret Recipe Club. While I was perusing what to make for that (I ended up making these delicious Red Velvet Cupcakes), I found Cream Cheese Chocolate Chip Cookies. Perfect for the chocolate chip cookie challenge. And, cream cheese in chocolate chip cookies? Hello! Delicious. And, BONUS, these are also egg-free, so they're be simple to convert to vegan. Just use vegan "butter" and cream cheese. The only change I made was doubling the vanilla extract. I pretty much always do that, for whatever reason. As you know, I'm not a huge baker of sweets. Baking is more of a science and I'm definitely one of those "throw in a little of this and a little of that" kind of cooks. So, I let my husband, the "dessert man" in the house, take the lead here. Yes, he's a man of many talents. He fries and bakes. With his help, I was able to make some pretty delicious cookies.
Cream Cheese Chocolate Chip Cookies
Adapted from Cream Cheese Chocolate Chip Cookies.
Ingredients
4 ounces cream cheese, softened
3/4 cup unsalted butter, melted and cooled*
1 cup brown sugar
1/2 cup sugar
4 teaspoons vanilla extract
1/2 teaspoons baking soda
1/2 teaspoons salt
2 cups plus 3 tablespoons flour
1 1/2 cups semi-sweet chocolate chips
Note: All ingredients used are vegan versions
*If you can't find unsalted, reduce salt in recipe to 1/4 teaspoon
Directions
Preheat the oven to 325 degrees and line baking sheets with parchment.
Cream the butter, cream cheese and sugars together until light and fluffy.  Add the vanilla.
Sift together dry ingredients and then add them to the butter mixture.  Beat until well combined.  Stir in chocolate chips.
Place a large scoop (about 2 tablespoons) on the prepared cookie sheet and flatten slightly with your hand.
Bake 12-14 minutes or until edges are light golden brown.
Cool for 5 minutes on cookie sheets before moving to wire racks to cool completely.
If you make it away with any leftover cookies (yeah, right) or, more likely at least for me, mess up a batch, try this CrockPot Cheesecake with Cookie Crust.
The Results
Oh wow. These are incredible. I split mine into two batches and ended up overcooking the first batch (about 18 minutes until they were golden brown). On the second batch, I decided not to wait for the "goldenness" and went with 15 minutes. They were delicious. The first batch was a little tough. So, I'd say definitely err on the side of less time versus getting them golden. They remind me a lot of a homemade version of Keebler Soft Batch cookies, which for some unbeknownst reason they don't seem to make anymore. Chewy and delicious.
While the vegan version is pictured (in honor of VeganMoFo), I've made these with both vegan and standard ingredients. Both turned out really well.
This post shared at Fat Camp Friday, Crafty Friday, Friday Favorites, Potluck Friday,·Frugal Fridays, Foodie Friday, Fresh Food Friday, Secret Recipe Club Cookie Party and I'm Lovin' It.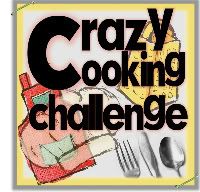 Due to spam, I've decided to close comments on posts older than 14 days.
PAID ENDORSEMENT DISCLOSURE: I may receive monetary compensation or other types of remuneration for my endorsement, recommendation, testimonial and/or link to any products or services from this blog. We are a participant in the Amazon Services LLC Associates Program, an affiliate advertising program designed to provide a means for us to earn fees by linking to Amazon.com and affiliated sites.