As an Amazon Associate, I earn from qualifying purchases.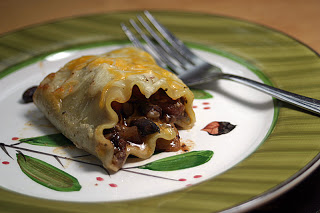 Day 342.
Hooray for leftover day! I already have a lot of "regulars" I make with leftover chili (Vegetarian Crockpot Chili Leftovers Recipes) but I wanted to try something different today. A while back I saw a recipe for Eggplant Rollatini over at The Adirondack Chick's site, which is sort of an eggplant parmesan with thin sliced eggplant rolled up around yummy cheese filling. Yum. For some reason that popped into my head today. Probably in part because I had a few lasagna noodles leftover from Squash and Sweet Potato Lasagna. So, I took the rollatini idea and adapted it to create my noodles and chili concoction.
Chili Rollatini
Ingredients for 6 rollatini
Rollatini:
3 cooked lasagna noodles, halved widthwise
6 heaping tablespoons Slow Cooker Chili
3 tablespoons Mexican cheese, shredded
6 toothpicks, soaked in water
Butter sauce:
3 tablespoons butter or margarine, melted
1 teaspoon minced garlic
1/4 teaspoon cilantro, dried
1/4 teaspoon Italian seasoning
Topping:
1/4 cup Mexican cheese, shredded
Directions
Preheat oven to 350 and grease or spray a loaf pan or small (8 x 6) baking pan.
Lay halved noodles flat. Spread a heaping tablespoon of chili across the surface of each. Top with about 1/2 tablespoon of cheese each. Roll up and skewer with toothpick, seam-side down. Place in pan and repeat with remaining rolls.
Mix melted butter, garlic, cilantro and Italian seasoning and pour over rollatini. Top with about 1/4 cup Mexican cheese and bake at 350 for 15-20 minutes, until cheese is melted.
Place on serving plates, remove toothpicks and serve.
The Results
These rollatini were a little awkward to get together, but the taste was delicious. I really liked the cilantro-garlic butter; I'm pretty sure I could drink that on its own. The noodles and butter sauce toned down the spiciness of the chili a bit, so the kids were able to eat the rollatini without mixing in anything else.
This post is shared with Simple Lives Thursday, Tip Day Thursday, Frugal Food Thursday, Recipe Swap Thursday,Recipes I Can't Wait to Try, Things I Love Thursday, It's a Keeper, Full Plate Thursday, and Ultimate Recipe Swap.
The Super Easy Vegetarian Slow Cooker Cookbook
Want vegetarian and vegan recipes you'll love? Check out my first cookbook! I'm so excited about it and I hope you'll love it. You can find more information about it right
HERE
.