As an Amazon Associate, I earn from qualifying purchases.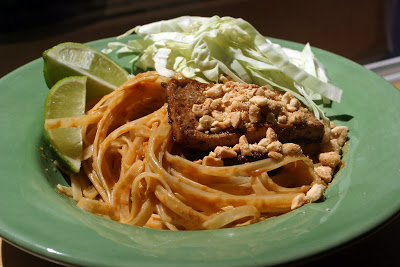 Day 209.
My favorite Thai dish is Pad Thai. I bought some rice noodles recently, intending to make Pad Thai soon. But, in the interest of my pantry challenge and the fact that I would've had to head to the store to get a couple ingredients for Pad Thai, I decided to experiment with some leftover Squash Wontons filling and the rice noodles. This dish is highly influenced by Pad Thai.
Butternut Squash Thai Noodles
Ingredients
1 cup Squash Wonton filling
1/3 cup cream cheese, softened
1/2 cup milk
1 tablespoon cornstarch
16 ounces rice noodles
Marinated baked tofu (I marinated in soy sauce, olive oil, red pepper flakes and liquid smoke)
Garnishes: chopped cabbage, crushed peanuts and limes
Directions
Marinate tofu and bake at 400 for about 30 minutes, turning once. Meanwhile, soak rice noodles. In a large saucepan, mix squash wonton filling, cream cheese and milk. Cook over medium heat until heated through, stirring to blend in cream cheese. Add cornstarch, mix and simmer for 5-10 minutes.
When noodles are soft, mix into butternut squash sauce. Serve with chopped cabbage, crushed peanuts and lime wedges.
The Results
Delicious. The kids loved it, too. I think this sauce would be great on spaghetti, also.
This post is shared with Simple Lives Thursday, Tip Day Thursday, Frugal Food Thursday, Recipe Swap Thursday,Recipes I Can't Wait to Try, Things I Love Thursday, It's a Keeper, Full Plate Thursday, Grocery Cart Challenge and Ultimate Recipe Swap.
The Super Easy Vegetarian Slow Cooker Cookbook
Want vegetarian and vegan recipes you'll love? Check out my first cookbook! I'm so excited about it and I hope you'll love it. You can find more information about it right
HERE
.