As an Amazon Associate, I earn from qualifying purchases.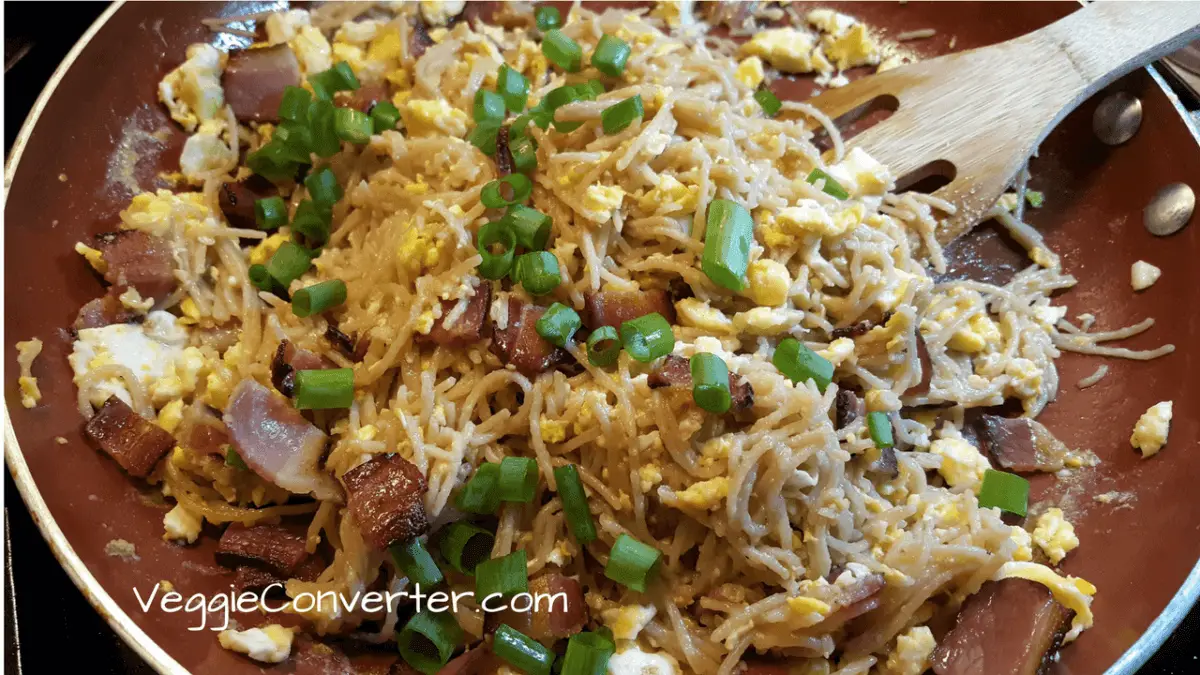 I'm loving this new addition of breakfast noodles to my morning rotation. Breakfast in a gluten-free American home can be a big change. Cereal and toast is usually out. So I've been eating a lot of eggs for breakfast since making the switch. And I added in bacon pretty regularly when I shifted from vegetarian to flexitarian.
But over hard eggs and bacon gets boring. So I whipped up this easy mock carbonara that uses my favorite breakfast foods scrambled in yummy, gluten-free noodles. I can slap this together in about 20 minutes so it's easy to put it together even on extra drowsy mornings.
These noodles are one of those great starter recipes that allow you to use whatever you have on hand, however. Experiment with leftover veggies and meats, just like you might with a fritatta or stir-fried rice. I've made another version with curry chicken and asparagus that's pretty darn tasty, too. I'm loving the flexibility of breakfast noodles. Try it with sausage or leftover lunch meats, too.
Breakfast Noodles
Serves 4
Ingredients
4 slices bacon, cooked and chopped into 1-inch pieces (grease reserved)
4 eggs
2 teaspoons minced garlic
8 ounces spaghetti, cooked (I used TruRoots ancient grain pasta)
salt to taste
2 tablespoons green onion slivers
Method
With your bacon grease in a medium hot pan, add eggs and scramble. Add garlic and spaghetti, stir. Add bacon and salt to taste. Top with green onion slivers and serve.
Results
While it's pretty similar to our usual Carbonara, it's quicker, more flexible and dairy free. Mr. Meaty and the girls all loved it so we're definitely putting this recipe in our regular breakfast rotation. I can't wait to experiment a little more with variations.
I am a TruRoots blogger ambassador and was asked to create a unique recipe for using ancient grain spaghetti. All opinions are my own.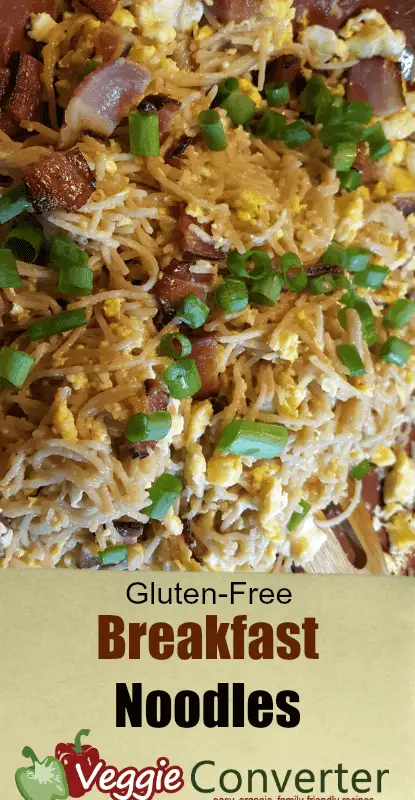 The Super Easy Vegetarian Slow Cooker Cookbook
Want vegetarian and vegan recipes you'll love? Check out my first cookbook! I'm so excited about it and I hope you'll love it. You can find more information about it right
HERE
.