As an Amazon Associate, I earn from qualifying purchases.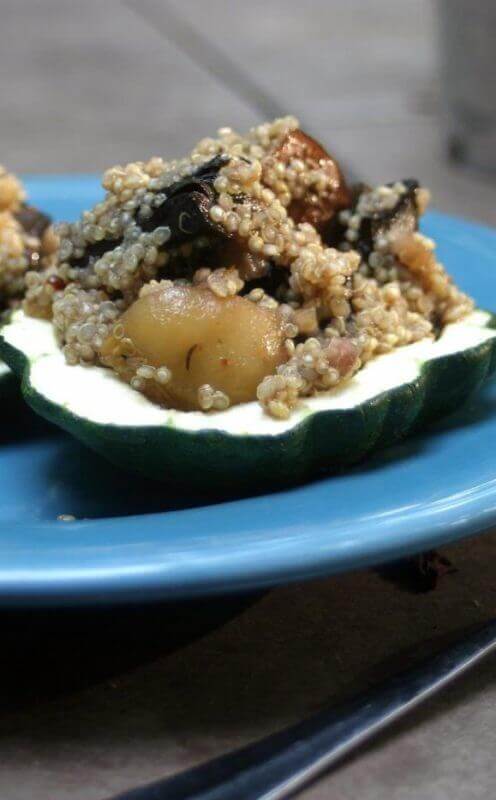 Day 193.
Today I have Blueberry-Balsamic Portabella Stuffed Squash.
Blueberry-Balsamic Portabella Stuffed Squash
Ingredients
4 individual Squash, Acorn
½ cups Olive Oil
⅛ teaspoons Kosher Salt
3 cups slice Mushroom, Portobello
½ cups Blueberries
1 tablespoon Steak Seasoning
6 ounces Balsamic Herb Marinade, Liquid
½ cups dice Shallot
⅛ teaspoons Black Pepper
6 cups rinse, drain, and cook Quinoa
The Results
Oh. My. Goodness. This was seriously delicious. In fact, our 2-year-old said so. "De-lish-us, Mommy." Hilarious. Since I fell in love with both blueberry-balsamic marinade and quinoa this year, this is only fitting. I really dig the pattypan squash, too. They're so cute and taste like a sweet zucchini to me. And edible bowls? Win.
This post is shared at·Tuesdays at the Table,·Slightly Indulgent Tuesday,·Tasty Tuesday, Delectable Tuesday,·Tempt My Tummy Tuesday,·Delicious Dishes,·Real Food Wednesday, Recipe of the Week, Hearth and Soul, and Tasty Tuesday.
The Super Easy Vegetarian Slow Cooker Cookbook
Want vegetarian and vegan recipes you'll love? Check out my first cookbook! I'm so excited about it and I hope you'll love it. You can find more information about it right
HERE
.