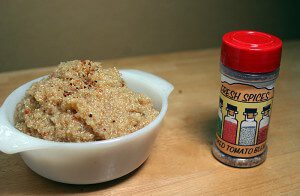 As you may know, I've tried many, many bacon substitute recipes in the past. Bacon is the single meat that I ever thought was delicious. Well, bacon and steak, but steak was a wavering thing while I always liked bacon. So, in our mostly meatless household, I do a lot of different sub-ins for bacony flavor. I really, really liked my Mushroom Bacon Bits and even my Black Forest Bacon Strips. And I can totally still make those using smoked salt instead of delicious bacon salt (which I discovered had non-whole ingredients once I became a little more vigilant in my label reading). But, they're not quite the same. So, I decided to try something completely different and completely simple. The greatest part of this substitute is it's a natural complete protein (quinoa) with a bit of bacony flavor added in. It's awesome! AND, you can make it "crispy" by pan-frying the cooked quinoa. Awesome! I highly recommend giving this recipe a shot.
Bacony Quinoa

Ingredients

Soaked quinoa
water
hickory smoked salt
salt and pepper and desired seasonings (I use smoked tomato blend) to taste

Instructions

Cook your soaked quinoa and add seasonings when finished.

Recipe Source: VeggieConverter.com
The Results
Wowza! I absolutely love this "bacon." AND, the kids and Mr. Meaty love it!
This post shared at Gallery of Favorites, Fresh Bites Friday, Friday Favorites, Frugal Fridays and I'm Lovin' It.
The Super Easy Vegetarian Slow Cooker Cookbook
Want vegetarian and vegan recipes you'll love? Check out my first cookbook! I'm so excited about it and I hope you'll love it. You can find more information about it right
HERE
.