As an Amazon Associate, I earn from qualifying purchases.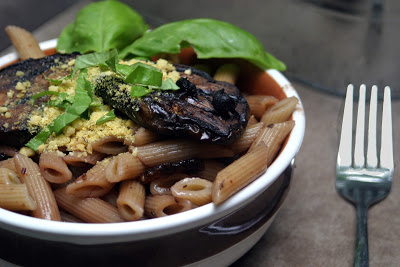 Day 181.
Hello, bacon blueberry balsamic penne! I absolutely fell in love with the Blueberry-Balsamic marinade I made for the Eggplant Steaks this week. So I knew I just had to make something with the leftover marinade for my Leftover Creation this week.
It was a tough call between mushroom empanadas (with the mushrooms marinated and a dipping sauce made from the marinade) and pasta. I went with the pasta, but I think I'll eventually make those empanadas, too. I might be a little obsessed. But hey, obsession with something delicious? Score.
Bacon Blueberry-Balsamic Penne
Ingredients
1 pound penne
2 cups Blueberry-Balsamic marinade
1 cup Mushroom Bacon Bits
10 pieces Blueberry-Balsamic Eggplant Steaks
1/2 cup Parmesan substitute
6 basil leaves, julienned
Method
Cook pasta according to package directions. Meanwhile, warm eggplant steaks in oven and bake mushroom bacon bits.
Strain pasta and return to pot. Pour in marinade and "bacon." Stir to combine. Top each serving with eggplant steaks, Parmesan and basil.
The Results
Yum. The pasta is delicious. I adore the flavor. The steaks are great on top, too. I think the pasta would be delicious even without the eggplant. Yum.
Project Food Budget:
I so busted my budget. Like, beyond all busting. Right at the end of the month, too. We spent $203 at Kroger this week. The good news is, I was purchasing groceries for about two months worth of meals. We need more outside time this summer, so I'm freezing ahead. So, while I blew my budget wide open, we shouldn't need much more than odds and ends once I get these meals done. If you don't count what I bought for July and August meals, I'd be at about $297, but that's OK. 🙂
Goal: $75/$300
Actual: $203/$474
Participating Blogs:
This post is shared with Simple Lives Thursday, Tip Day Thursday, Frugal Food Thursday, Recipe Swap Thursday,Recipes I Can't Wait to Try, Things I Love Thursday, It's a Keeper, Full Plate Thursday, Grocery Cart Challenge, Cooking Thursday and Ultimate Recipe Swap.
The Super Easy Vegetarian Slow Cooker Cookbook
Want vegetarian and vegan recipes you'll love? Check out my first cookbook! I'm so excited about it and I hope you'll love it. You can find more information about it right
HERE
.