As an Amazon Associate, I earn from qualifying purchases.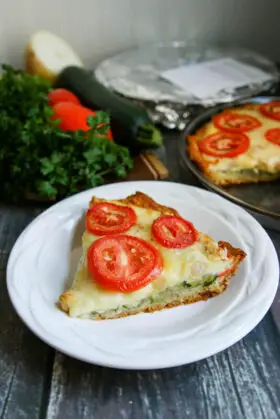 I was so excited about this recipe because it gave me a chance to hit the farmer's market up in Kansas City while I was there. If you've never been to the City Market and you live in that area, you should definitely check it out. It's full of excellent produce and strolling around the area is a fun way to spend the day. This Zucchini Crescent Pie is filled with seasonal fresh zucchini, onion, and delicious Roma tomato slices.
Zucchini Crescent Pie
Ingredients
8 ounces crescent rolls
2 cups diced zucchini
½ cup diced onions
¼ cup diced butter
2 teaspoons chopped parsley, fresh
½ teaspoons salt
½ teaspoons garlic powder
½ teaspoons pepper
¼ teaspoons basil
¼ teaspoons oregano
2 eggs, beaten
2 cups shredded mozzarella cheese
¾ cups chickpeas
1 cup slice Roma tomatoes
The Results
The kids and the adults all loved these cheesy, delicious pie. Even my uncle, the meataholic liked it in spite of it's lack of ham and the presence of chickpeas. We really enjoyed this pie. We actually used up some canned crescent rolls that we'd purchased before our Get Real transformation, but I'm sure the whole food version made with Kelly's delicious homemade refrigerator rolls would be even tastier (and better for you).
This post shared at Gallery of Favorites, Fresh Bites Friday, Friday Favorites, Frugal Fridays and I'm Lovin' It.
The Super Easy Vegetarian Slow Cooker Cookbook
Want vegetarian and vegan recipes you'll love? Check out my first cookbook! I'm so excited about it and I hope you'll love it. You can find more information about it right
HERE
.