As an Amazon Associate, I earn from qualifying purchases.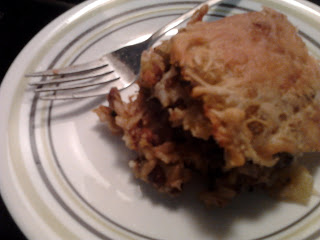 Day 123.
Hooray! Taco Tuesday! And we're having vegetarian Mexican verde casserole tonight. It's hard to pick a favorite meal day of the week, but Mexican food is one of our family favorites. As an added bonus, it's also the day we usually do our grocery shopping. Mexican food, in my experience, is pretty forgiving with substitutions. So, it's easy for me to throw something together whether planned or unplanned on Tuesdays with whatever happens to be left in the fridge and pantry.
Today's meal is no exception. I saw Kelly's delicious Mexican Verde Casserole and thought, "I'm sure I have all the stuff for that, I don't need to run to the store." I didn't. But, in the end, I think it worked out well with what I had. I had the important stuff. 
I ended up using beef substitute instead of chicken substitute for two reasons. First, I was out of chicken substitute and I have yet to perfect my homemade version.
Second, I have that yummy homemade beef substitute already made and it seemed wrong to use prepackaged "chikn" in a whole food recipe. Am I right?
I also was apparently out of sour cream. So plain yogurt stood in. I swap those two ingredients for each other pretty frequently though. I used corn tortillas and Mexican blend cheese as well instead of the originals.
So, thank you Kelly for the awesome original recipe. If I'd had the ingredients, I would've followed it more closely as it sounded super as-is. But I think this version sounds pretty yummy, too.
Mexican Verde Casserole
Ingredients
2 C ground beef substitute
3 C organic Mexican cheese, shredded
1/2 C organic plain yogurt or sour cream
1 C diced green chilies (these can be canned, fresh roasted at home or found at your farmers market)
1 C onion, diced
6 corn tortillas
1.25 Cups Salsa Verde
Method
Place two tortillas at the bottom of an 8×8 pan.
Sprinkle 1/3 of "beef", green chilies, onion, sour cream/yogurt and cheese on top of tortillas. Then pour 1/3 of salsa verde over. Cover with two more tortillas and repeat two more times.
Place tortillas on top of last layer, and sprinkle with remaining cheese and salsa verde.
Cover with foil and bake at 375 for about 40 minutes then uncovered for another 10-15 minutes until golden brown and bubbling at the sides.
Freezing Directions
Before baking, simply cover with foil, and place in freezer until ready to bake. On cooking day, place in 375 oven for about one hour and fifteen minutes or until golden brown and bubbling at the sides.
Results
Holy smackaroo. This is fantastic. My husband is a bigger fan of salsa verde than I am, but in this I think it really makes a big difference. It just wouldn't be as awesome with red salsa. I dig this. A lot. It's all crispy and spicy, but not too spicy, and delicious. I loved it with the "beef" but I bet it would be great with "chicken" also. I'll have to twist my own arm to try that version later. Yum.
What's your favorite Mexican meal?
This post is shared at·Tuesdays at the Table,·Slightly Indulgent Tuesday,·Tasty Tuesday, Delectable Tuesday,·Tempt My Tummy Tuesday,·Delicious Dishes,·Real Food Wednesday, Recipe of the Week, Hearth and Souland Tasty Tuesday.
The Super Easy Vegetarian Slow Cooker Cookbook
Want vegetarian and vegan recipes you'll love? Check out my first cookbook! I'm so excited about it and I hope you'll love it. You can find more information about it right
HERE
.