As an Amazon Associate, I earn from qualifying purchases.
We love lasagna; it's a holiday favorite and an everyday favorite. And the kids love just about anything in cupcake shape. So when I saw Lasagna Cups recently on Pinterest, I knew I'd have to make them eventually. That was several months ago, but I finally got around to it. Which led to the creation of this beautiful Caramelized Onion Easy Marinara Sauce. Yum. And I went totally simple with the Lasagna Cups recipe, with just one layer of each item. After all, the sauce is packed full of yum, so it didn't need much else.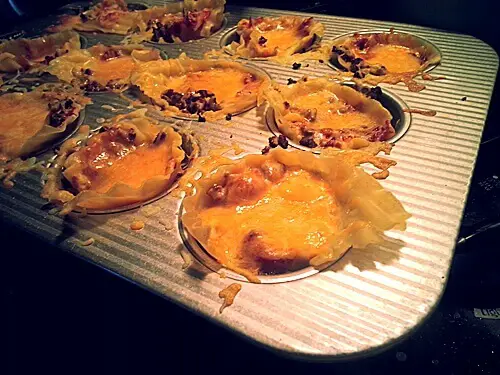 Ingredients
6 lasagna noodles
1 1/2 cups marinara sauce
3/4 cup ricotta cheese
1/2 cup lentil "beef" crumbles
1 1/2 cups shredded cheese
Method
Preheat oven to 350.
Cut noodles in half and line in cups. Mix other ingredients and fill cups.
Bake 20-25 minutes.
The Super Easy Vegetarian Slow Cooker Cookbook
Want vegetarian and vegan recipes you'll love? Check out my first cookbook! I'm so excited about it and I hope you'll love it. You can find more information about it right
HERE
.