As an Amazon Associate, I earn from qualifying purchases.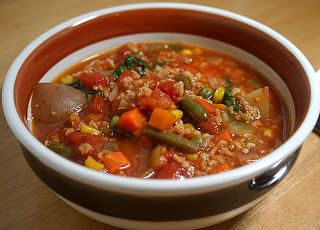 Day 326.
In the pre-kid days, I used to make this easy vegetable beef soup for my husband and I with canned tomato soup, veggies and frozen beef crumbles. It was incredibly simple and a nice, fast weeknight recipe. But, because of the HFCS, I don't use canned tomato soup for meals the kids are going to eat. So, I crafted this new version using diced tomatoes and Easy Slow Cooker Vegetable Broth. I also wanted to try out dry TVP, which I haven't cooked with in about a decade. I'm excited to try it again since my tastes have changed since those ramen noodle-filled days.
Vegetable Beef Soup
Ingredients
olive oil
1 small onion, diced
1 tablespoon minced garlic
2 cups diced tomatoes, with juice
6 new potatoes, quartered
2 cups frozen vegetables, thawed (corn, peas, carrots and green beans)
1/2 cup TVP granules (OR 1 cup Lentil and Rice Ground Beef Substitute)
1 cup spinach, chopped
House seasoning (or salt and pepper) to taste
Method
Saute onion and garlic in a bit of olive oil in a medium soup pot until tender. Add tomatoes, broth, potatoes and vegetables. Bring to a boil. Add TVP and reduce heat to low. Simmer for 20 minutes, or until potatoes are tender. Add spinach and cook until wilted, about 5 minutes. Season to taste and serve.
The Results
Oooh this is so much better than using the canned tomato soup base. And I really liked how the TVP turned out. It doesn't seem to have its own flavor, instead adding a bit of toothiness (and much needed protein) to the dish. Goose and I really enjoyed it.Bug picked all her veggies out and ate them, leaving the potatoes and broth in her bowl. I'll take that as a win since she has an inexplicable dislike of potatoes.
This post is shared at·Tuesdays at the Table, Tuesday Night Supper Club,·Slightly Indulgent Tuesday,·Tempt My Tummy Tuesday,·Delicious Dishes,·Real Food Wednesday, Recipe of the Week, Hearth and Soul,Tutorial Tuesday, Tasty Tuesday and Tasty Tuesday.
The Super Easy Vegetarian Slow Cooker Cookbook
Want vegetarian and vegan recipes you'll love? Check out my first cookbook! I'm so excited about it and I hope you'll love it. You can find more information about it right
HERE
.