As an Amazon Associate, I earn from qualifying purchases.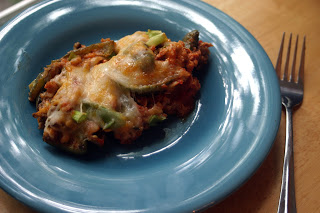 Day 207.
When it comes to simple meals that kids will eat, my friend Pam comes up with some delicious concoctions. My kids love peppers, rice, "beef" and tomato sauce. So I've always been a little frustrated with the fact that when you put a Stuffed Pepper in front of our oldest, she won't eat it. That is, unless you chop it up and moosh it all together. Pam is smarter than me on this front, because she thought to go ahead and do moosh it all together BEFORE you bake it. Which is, of course, also easier. Duh. Told you she was a genius. This is going to be delicious and so much simpler to serve to kids. I'm going to have to try this method with my Southwest Stuffed Peppers recipe eventually, too.
Since I'm doing my Pantry Challenge this week, I decided to use up some leftover spaghetti sauce instead of opening new cans of diced tomatoes and tomato sauce, but I think it would've been great with those ingredients as well.
Unstuffed Pepper Bake
Ingredients
1 pound Lentil and Rice Ground Beef Substitute (if you use another "beef" substitute, add back the 1 cup of cooked rice or quinoa)
1/3 cup onion
4 bell peppers (about 2 cups), sliced
2 teaspoons minced garlic
2 cups pasta sauce
1 teaspoon Italian seasoning
8 ounces shredded Mexican blend cheese*
3 green onions, diced (optional garnish)
*Vegan Converter: substitute a mix of Daiya pepperjack and cheddar.
Directions
Preheat oven to 400.  Fire roasted green peppers, onion and garlic, coated with olive oil and
House seasoning
, for 30 minutes, turning once. Remove and turn oven down to 375.Spray an 8×8 baking dish. Stir together "beef," roasted vegetables, rice or quinoa (if applicable), half of cheese and Italian seasoning and place in dish. Top with pasta sauce and remaining cheese.Bake for 20 minutes, until heated through and cheese is melted and bubbly.

Results
The kids literally mauled me when this came out of the oven. Who can blame them? It smelled delicious. This was a HUGE hit. I was literally spoon feeding Goose straight from the baking dish until I could get her into her high chair. Insanely delicious. My husband and I loved it, too.This post is shared at·
Tuesdays at the Table
,·
Slightly Indulgent Tuesday
,·
Tasty Tuesday
,
Delectable Tuesday
,·
Tempt My Tummy Tuesday
,·
Delicious Dishes
,·
Real Food Wednesday
,
Recipe of the Week
,
Hearth and Soul
,
and
Tasty Tuesday.
The Super Easy Vegetarian Slow Cooker Cookbook
Want vegetarian and vegan recipes you'll love? Check out my first cookbook! I'm so excited about it and I hope you'll love it. You can find more information about it right
HERE
.