As an Amazon Associate, I earn from qualifying purchases.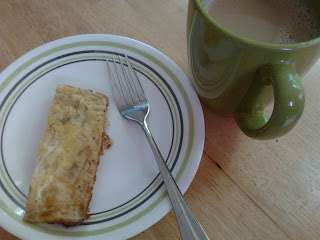 Day 107.
Sunday Brunch for me is all about breakfasty foods for that late morning/early afternoon meal. We're having green chile cheese eggs! Sometimes we have a more lunch-type meal, but life just seems better when the brunch recipe includes eggs and cheese. This recipe from Debbi Does Dinner called to me with its cheesy green chile deliciousness.
Green Chile Cheese Eggs
Adapted from Green Chili Cheddar Eggs.
Ingredients
8 eggs
2 tbsp. milk
1 tbsp. all purpose flour
4 oz. cheddar cheese
2 (7 oz) cans chopped green chiles
Directions
Preheat oven to 375.
I actually made a half recipe, so I went with a loaf pan (I also doubled the original amount of chiles). However, for the full recipe, use a 9-inch pie plate. Spray the dish with non-stick spray. Pour eggs, flour and milk in dish and whisk to combine. Add cheese and chiles and stir.
Bake until center is set, about 35-40 minutes.
The Results
Mmmm….the green chiles and cheese are just fabulous. I love it. I'd planned on serving this with Debbi's Southwest Potato Hash, but my Meat and Potato Pie ran me out of potatoes. It looks delicious, also, though.
What are you having for Sunday Brunch, Breakfast or Lunch?
This post is shared at·Sundays at One Food Club, Just Something I Whipped Up, Penny Worthy Project, Cookbook Sundays·and·Potluck Sunday.
The Super Easy Vegetarian Slow Cooker Cookbook
Want vegetarian and vegan recipes you'll love? Check out my first cookbook! I'm so excited about it and I hope you'll love it. You can find more information about it right
HERE
.