As an Amazon Associate, I earn from qualifying purchases.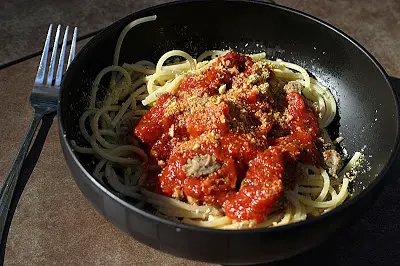 Day 310.
I'm having a super lazy day today, still recovering from that sore throat, so I decided dinner had to be really simple. And it just so happens to be a favorite for the entire family. This simple version is a regular in our lunchtime rotation and we sometimes have it for dinner, paired with some simple garlic bread and salad. We also like our homemade bolognese sauce, but boy is this recipe great for those days you don't want to put in a lot of thought or time.
Spaghetti with Meat Sauce
Ingredients for 4 servings
Directions
Warm sauce and beef substitute together while spaghetti cooks. Top each serving of spaghetti with meat sauce and Parmesan, if desired. Sometimes I add a bit of Spike seasoning to the sauce if I feel like it needs an extra kick.
To store, package noodles and sauce separately.
The Results
Delicious and fun for the kids to eat, as always. Bug is learning to twirl hers on her fork, but most often bites the middle out of her noodles before sucking in each end. Goose just shoves her noodles in by the handful.
What are you having for Sunday Brunch, Breakfast or Lunch?
This post is shared at Penny Worthy Project, Cookbook Sundays,Creative Bloggers and· Savory Sunday.
The Super Easy Vegetarian Slow Cooker Cookbook
Want vegetarian and vegan recipes you'll love? Check out my first cookbook! I'm so excited about it and I hope you'll love it. You can find more information about it right
HERE
.