As an Amazon Associate, I earn from qualifying purchases.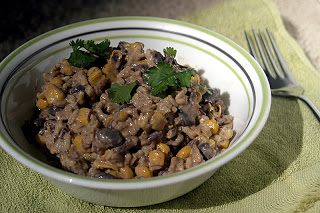 Our kids are weird. They beg for vegetables and beans. Some of their favorite meals include black beans, tomatoes, corn and rice in various combinations. They've also been known try cry when all the broccoli is gone. I'm not complaining. It's awesome; just funny. Needless to say, when I saw this cold Southwestern Rice Salad recipe from Kate at Stolen Moments Cooking, I knew it would be a great lunch for the kids.I simply swapped in some tofu mayo for the mayonnaise, set it before the hounds and watched it disappear.
Southwestern Rice Salad
Adapted from Southwestern Rice Salad
Ingredients
2 cups black beans, cooked
2 cups corn, cooked
4 ounces green chiles, diced
1/2 cup mayonnaise, dairy-free
2 tablespoons cumin
1 teaspoon chili powder
1 teaspoon salt
2 cups brown rice, cooked and cooled
Directions
Combine beans, corn and chiles in a large bowl. Mix mayo and spices in a small bowl. Combine the two bowls and refrigerate for half an hour to allow the flavors to seep in. Mix in rice and serve cold.
The Results
The kids went insane for this…I don't think any of it made it to the floor, which is super high praise from Goose (our 15-month-old). The mayo was a little too, I don't know, "tofuey" for my husband and even a bit for me, so we added a bit more seasoning (taco seasoning) to mask that a bit. Otherwise, it was a great dish for the kids and a nice change of pace from our usual hot rice and bean dishes.
What are you having for Sunday Brunch, Breakfast or Lunch?
This post is shared at Penny Worthy Project, Cookbook Sundays,Creative Bloggers and· Savory Sunday.
The Super Easy Vegetarian Slow Cooker Cookbook
Want vegetarian and vegan recipes you'll love? Check out my first cookbook! I'm so excited about it and I hope you'll love it. You can find more information about it right
HERE
.