As an Amazon Associate, I earn from qualifying purchases.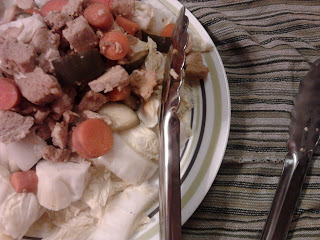 Day 124.
Mmm…vegetarian General Tso's chicken. It's one of those that doesn't really taste like real chicken. More like bread and sauce. So, I had to make this when I saw it on Steph's site, Crockpot 365.
The interesting part is, since Steph's family is gluten free, she went with unbreaded. The breading is sort of a crucial part of General Tso's, so we'll see if that impacts the flavor tremendously. This is surely a much better for you version, since it's not fried.
General Tso's Chicken
Adapted from Slow Cooker General Tso's Chicken.
Ingredients
4 C chicken, cubed (or substitute chickpeas for vegetarian)
4 garlic cloves, minced
3 Tbsp. brown sugar
1 tsp. dried ginger
2 Tbsp. Bragg's liquid aminos or soy sauce
1/2 tsp. crushed red pepper flakes (add more to taste at the table if you'd prefer more heat)
House seasoning, to taste
1/2 head Napa cabbage, chopped
3 carrots, sliced into rounds
1/2 cucumber, diced
Directions
Use a 4-quart slow cooker. Spray crock with nonstick spray. Put the "chicken" into the bottom of your crockpot and then add the garlic, brown sugar, ginger, soy sauce, and red pepper flakes. Toss the chicken to fully coat with the sauce ingredients. Add carrots and cucumbers. Stir. Top with cabbage. Cover and cook on low for 3 hours, or until the veggies are tender.
Serve chicken and veggies on a bed of the chopped cabbage.
The Results
This vegetarian General Tso's chicken good. But it isn't really reminiscent of General Tso's chicken. My husband's response was "it has vegetables, so it's not General Tso's"…I was expecting it to taste like unbreaded Tso's with vegetables.
But really it just tastes like good "chicken" and veg stir fry. So, bottom line, it's tasty, but the sauce isn't very Tsoey. It definitely needs extra red peppers to even come close.
What's your favorite take-out fake out?
I'm a huge fan of these P.F. Chang's-style Lettuce Wraps. 
[amd-zlrecipe-recipe:121]
This post is shared with Real Food Wednesday, Recipes I Can't Wait to Try, What's Cooking Wednesday, What's on Your Plate?, What's on the Menu Wednesday, Let's Do Brunch, Works for me Wednesday, Gold Star Wednesday and No Whine Wednesday.
The Super Easy Vegetarian Slow Cooker Cookbook
Want vegetarian and vegan recipes you'll love? Check out my first cookbook! I'm so excited about it and I hope you'll love it. You can find more information about it right
HERE
.