As an Amazon Associate, I earn from qualifying purchases.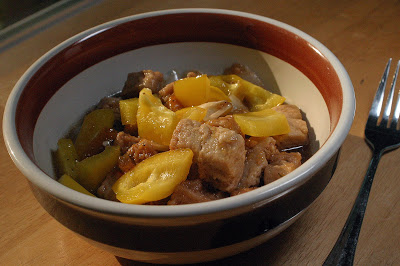 Day 244.
I set out to use up some of our fruits and vegetables. I even had an idea about apples and bell peppers. That's when I saw the plum jam sitting on the shelf. "Well, that could be a really good sauce base," I said, (literally, out loud and everything) to myself. Then I thought, maybe that'd be a bit too sweet, so I decided to bring in the balsamic vinegar and lemon juice. And, of course, those bell peppers I thought about initially. Creation in the kitchen. Mwa ha ha! We'll see how this turns out. I'm hopeful for super delicious.
Slow Cooker Plum-Balsamic Chicken
Ingredients
1/2 onion, diced
4 cups vegan (or vegetarian, if desired) chicken, cubed
1 cup plum jam
2-3 tablespoons balsamic vinegar
1 tablespoon lemon juice
1/2 teaspoon salt
4 cloves garlic
1/2 teaspoon thyme
1/2 cup water or vegetable broth
1 yellow bell pepper, diced
Directions
Squirt a bit of olive oil into a 4-quart slow cooker. Add onion. Add chicken. I used Quorn chicken tenders (which are actually vegetarian, not vegan, but I think seitan would work fine, too). In a small bowl, mix together all remaining ingredients, except bell pepper and water.
Pour sauce into slow cooker, coating chicken. Add water or broth to bowl around before adding to slow cooker. Top with diced pepper and cook on low for 3-4 hours, until pepper reaches desired tenderness and chicken is heated through.
Serve over rice.
The Results
Oh my goodness. My husband and I devoured this in under an hour. We both absolutely fell in love with it. My husband almost immediately said it should go on a "best" list…if I ever get around to making one. This is like a more delicious version of sweet and sour chicken. And, bonus, we have lots of plum jam and can make it repeatedly! The kids poo-pooed it when we tried to give them a taste. But, to be fair, they both had colds and it was well past their bad time (plus they'd gorged themselves on what we'll call appetizers of peanut butter tortillas).
This post is shared with Simple Lives Thursday, Tip Day Thursday, Frugal Food Thursday, Recipe Swap Thursday,Recipes I Can't Wait to Try, Things I Love Thursday, It's a Keeper, Full Plate Thursday, Fitness Friday, Gallery of Favorites and Ultimate Recipe Swap.
The Super Easy Vegetarian Slow Cooker Cookbook
Want vegetarian and vegan recipes you'll love? Check out my first cookbook! I'm so excited about it and I hope you'll love it. You can find more information about it right
HERE
.