As an Amazon Associate, I earn from qualifying purchases.
Young Living Essential Oils launched the Savvy Minerals Makeup Premium Starter Kit! I absolutely love the Savvy Minerals line. You know why? I can actually wear it without breaking out.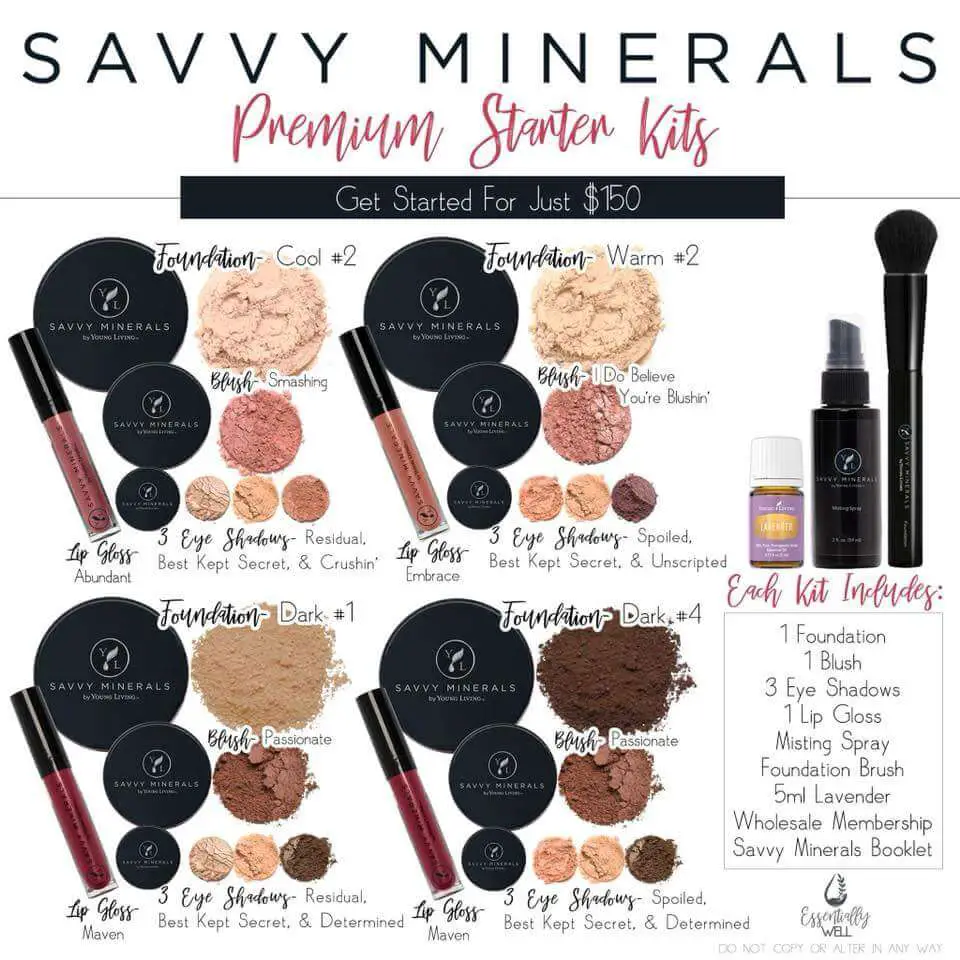 I haven't really worn makeup since high school because I'm allergic to EVERYTHING. But not this stuff. And, it comes in various shades that you can easily blend to match your skin perfectly.
Right now I use Warm 2 and in the summer I'll likely graduate to Warm 3. I'm thinking about getting the Dark 1 kit for blending. I love the Maven gloss, too.
You can get started now with Young Living Essential Oils with a Savvy Minerals Starter Kit for $150.
Each kit includes:
1 mineral foundation powder,
1 blush,
3 eye shadows,
1 lip gloss,
misting spray,
a foundation brush,
5 ml Lavender essential oil,
the Young Living Essential Oils wholesale membership and
a Savvy Minerals booklet.
Choose from the four foundation groups (Cool #2, Warm #2, Dark #1 or Dark #2) and each foundation comes with the complementing set of blush, eye shadows and lip gloss, plus all the rest of the Savvy PSK goodies.
I also love the mascara, which can be added to your order. And I love that using the eye shadows and gloss together to make different lip colors. So fun!
Why I Love the Savvy Minerals Makeup Premium Starter Kit
1. Ingredients. Wow. So, no wonder I'm allergic to all the other stuff. Have you read the labels on those things? Yikes. Here's what's in Savvy Minerals:
Young Living Essential Oils
Aspen Bark Extract
Mica
High-quality minerals
Naturally derived ingredients
Non-nano ingredients
Awesome, right?
2. No animal testing. All Young Living products, including Savvy Minerals makeup, are cruelty free and have never been tested on animals, including the Savvy Minerals makeup line.
3. Speed & ease. I've never been much of a makeup girl. Sure, mostly because I'm allergic. But also because I'm just not into spending a lot of time making myself up.
Every now and again, I may want to feel extra fancy. But that's about it. With Savvy Minerals, it's super easy to help my skin out in about five minutes. So I can feel fancy without feeling made up and without wasting my whole day.
4. Natural look. The colors and weight of the Savvy Minerals makeup lend really well to my style, which is a more natural look. Now, you can totally go more glam with them by building color and contour, too.
But for me, the subtlety of the mineral foundation and eye shadow is super important. I also love that the mascara (sold separately) isn't clumpy and already includes a drop of lavender EO, which I add to mascara anyway. Bonus.
5. All-in-one kit. I loooove that this kit takes a lot of the guesswork out of choosing eye shadows and blushes that will match my skin tone.
I'm a warm #2 and the colors that come with that kit are great. My secondary kit would totally be the dark #1 for contouring and more glam nights. So easy.
And, don't forget, once you order your kit, you get all the benefits of any other Young Living Essential Oils wholesale membership, which means you'll get 24% off any future orders. Learn more about that right HERE.
Why I Love…
Learn more about why I love:
Got a Question?
Contact me at [email protected]
Get started with Young Living with the Premium Starter Kit. Get it for 50% off retail prices. Learn more here. Once you become a member, you can join my Oily Geeks Facebook community and continue to learn more about essential oils and other toxin-free products!
***These statements have not been evaluated by the FDA. This product is not intended to treat diagnose or cure.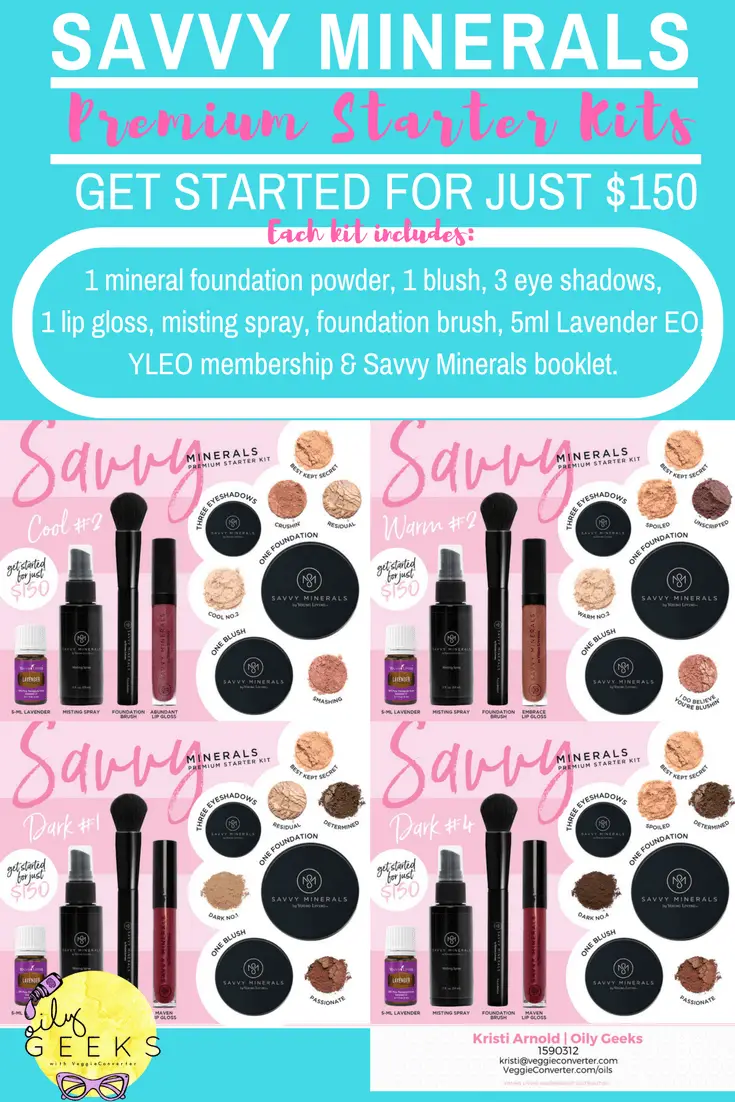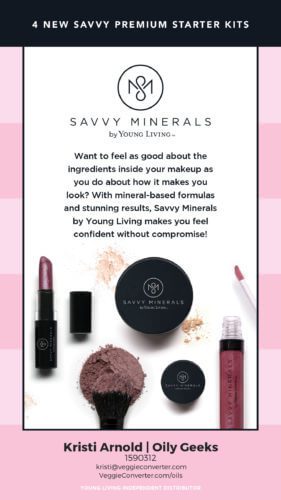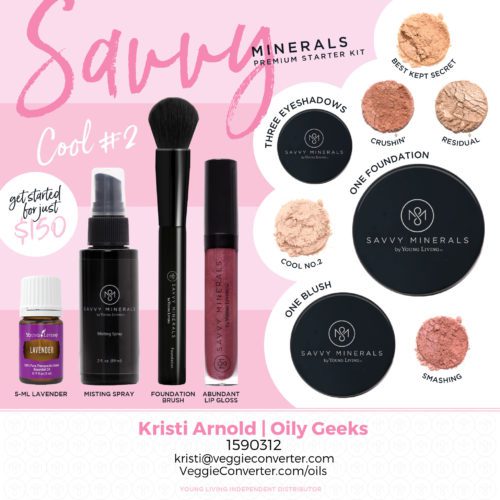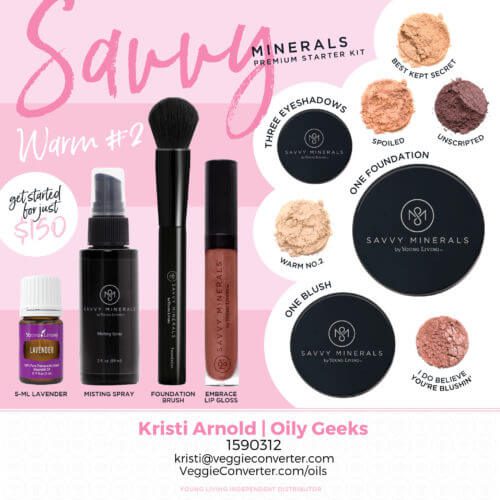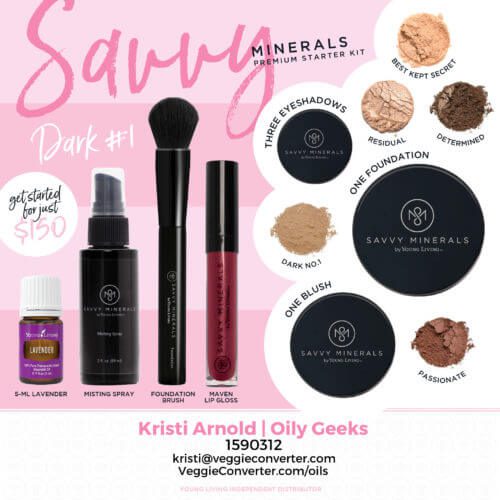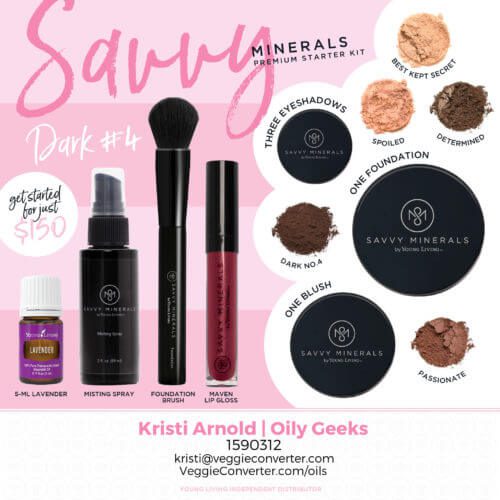 The Super Easy Vegetarian Slow Cooker Cookbook
Want vegetarian and vegan recipes you'll love? Check out my first cookbook! I'm so excited about it and I hope you'll love it. You can find more information about it right
HERE
.